Podcast Agency
A Podcast Agency is a highly specialized marketing and advertising agency that is dedicated to the production, marketing, and promotion of podcasts for clients. As an integral part of the advertising industry, this agency focuses on leveraging the power of audio content to effectively reach and engage target audiences.
With a deep understanding of the advertising landscape, a Podcast Agency offers a comprehensive range of services that revolve around content creation, editing, distribution, and audience engagement. They work closely with clients to develop captivating podcast episodes that align with their brand messaging and objectives. This involves conducting thorough research, crafting compelling scripts, and ensuring high-quality production values.
Furthermore, a Podcast Agency excels in marketing strategies tailored specifically for podcasts. They employ innovative techniques to maximize the visibility and reach of each episode, leveraging various advertising channels and platforms to attract a wider audience. By utilizing their expertise in digital marketing, they optimize podcast distribution across popular podcast directories, social media platforms, and other relevant channels.
In addition to content creation and marketing, a Podcast Agency also focuses on audience engagement. They understand the importance of building a loyal listener base and employ strategies to foster meaningful connections with the audience. This may include implementing interactive elements within episodes, encouraging listener feedback and participation, and leveraging social media platforms to facilitate discussions and community building.
For juniors in the advertising industry, understanding the role and significance of a Podcast Agency is crucial. By harnessing the power of audio storytelling, these agencies provide a unique and effective medium for brands to connect with their target audience. Their expertise in content creation, marketing, and audience engagement ensures that each podcast episode delivers a compelling and impactful message, ultimately driving brand awareness, customer engagement, and business growth.
Related terms
Allfred guides your agency's
financial process
Increase project visibility
for less overwork and overtime
Improve team collaboration, reduce errors by automating tasks with AI‑powered suggestions and lead your team to higher efficiency and engagement.
Integrated project & task management
Project communication & attachments
AI‑powered assistance reduces errors by up to 80%
Learn about Project management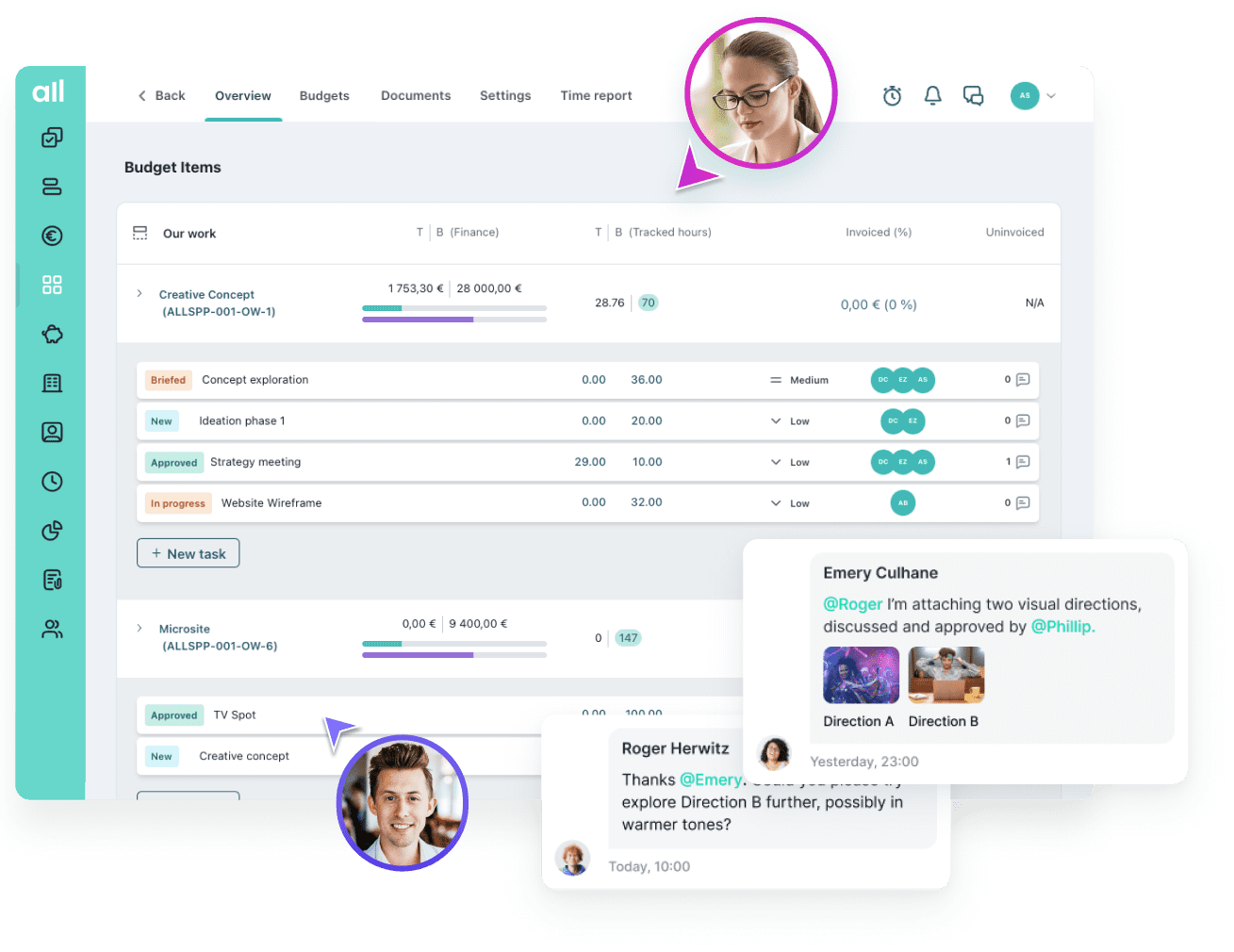 Gain a complete overview of all tasks, both assigned to you and those you've delegated
With a clear view of completed tasks and those still in the pipeline, maintaining order and tracking progress becomes effortless.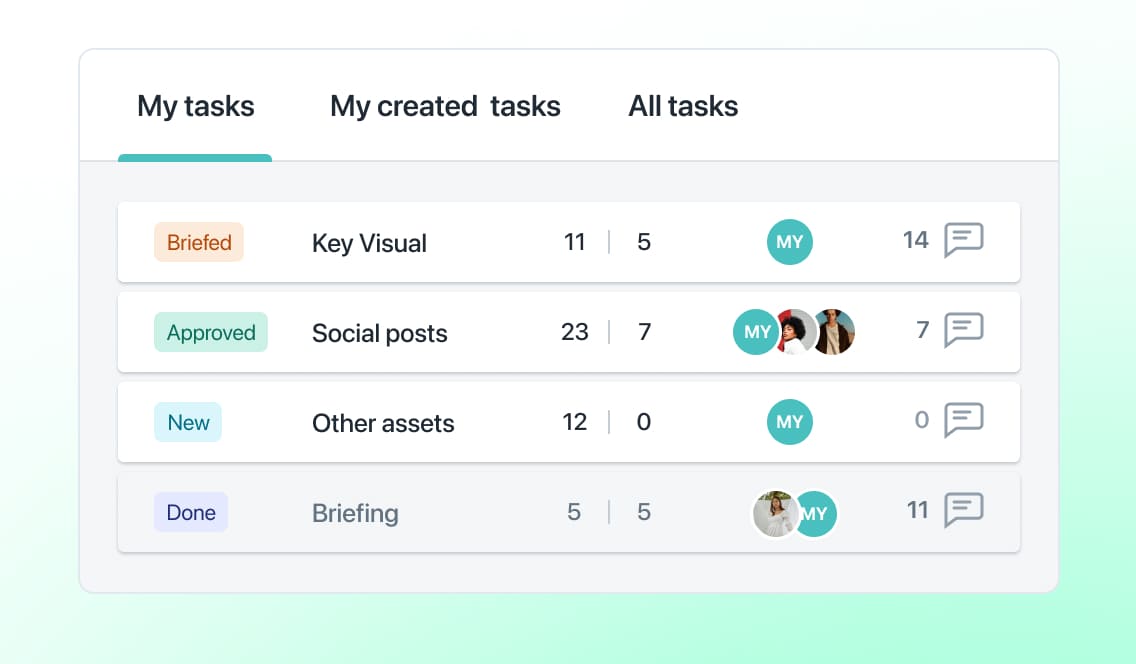 Integrated project and finance workflow
Advertising projects go beyond just your agency's tasks. Integrate all external collaborations and third-party expenses directly into your project workflow.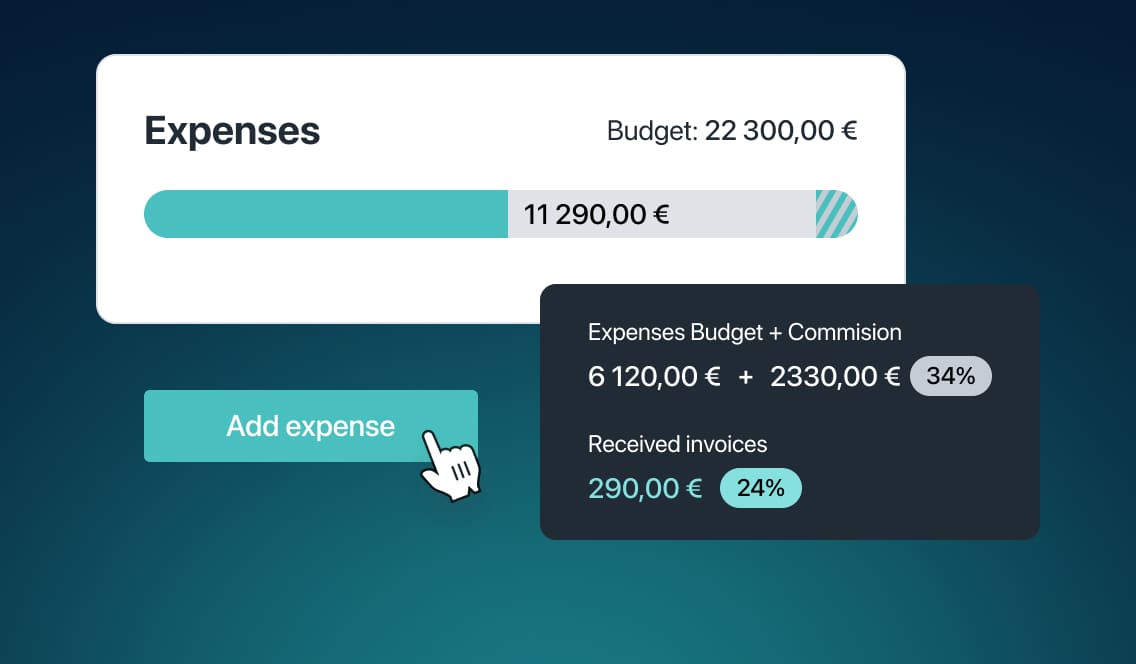 Is Allfred
the right fit

for your agency?

Try for free for a week. No strings attached. No prepayment needed.
Tailor made
For advertising, digital & PR agenciesfor advertising
Reliable
99.9% uptime
Secure
Corporate grade encryption & data securityCorporate grade encryption
On your deviceSupport
Dedicated support or 24/7 SLA24/7
HelpfulOnboarding
On site / remote onboardingAssistance