Hourly Time Tracking
Hourly time tracking is a crucial practice employed by marketing and advertising agencies, as well as PR agencies, to meticulously record the precise amount of time dedicated to various tasks or activities. This method involves measuring time in hours and minutes, allowing agencies to accurately bill their clients based on the actual work performed. However, its significance extends beyond financial aspects.
By implementing hourly time tracking, agencies gain valuable insights into the time investment required for different projects or tasks. This comprehensive understanding aids in project planning and resource allocation, enabling agencies to optimize their workflow and ensure efficient utilization of their team's skills and expertise. Moreover, it facilitates the identification of potential bottlenecks or areas where improvements can be made, enhancing overall productivity and project management.
For junior professionals in the advertising industry, grasping the concept of hourly time tracking is essential for their development and success. It provides them with a deeper understanding of the agency's operations and the importance of accurately tracking their time. By meticulously recording their hours, juniors can gain insights into their own productivity and time management skills, allowing them to identify areas for improvement and enhance their overall efficiency.
Furthermore, hourly time tracking serves as a valuable tool for juniors to showcase their contributions and the value they bring to the agency. By accurately documenting their time spent on different tasks, they can demonstrate their dedication, work ethic, and the tangible results they have achieved. This not only helps in building trust and credibility within the agency but also provides a solid foundation for future career growth and advancement.
In summary, hourly time tracking is a fundamental practice utilized by marketing, advertising, and PR agencies to record the actual time invested in specific tasks or activities. It serves as a reliable basis for billing clients, aids in project planning and resource allocation, and enables individuals to enhance their productivity and showcase their contributions. Understanding and implementing this practice is crucial for juniors in the advertising industry, as it empowers them to excel in their roles and contribute to the agency's overall success.
Related terms
Allfred guides your agency's
financial process
Get more billable hours
and manage team happiness
Save up to 60% of time spent on administrative tasks through automation and streamlined processes, allowing teams to focus more on creativity and strategy.
Integrated resources & tasks planning
Capacity booking, conflict detection and 1‑click time tracking
Better work‑life balance and motivated team
Learn about Resource planning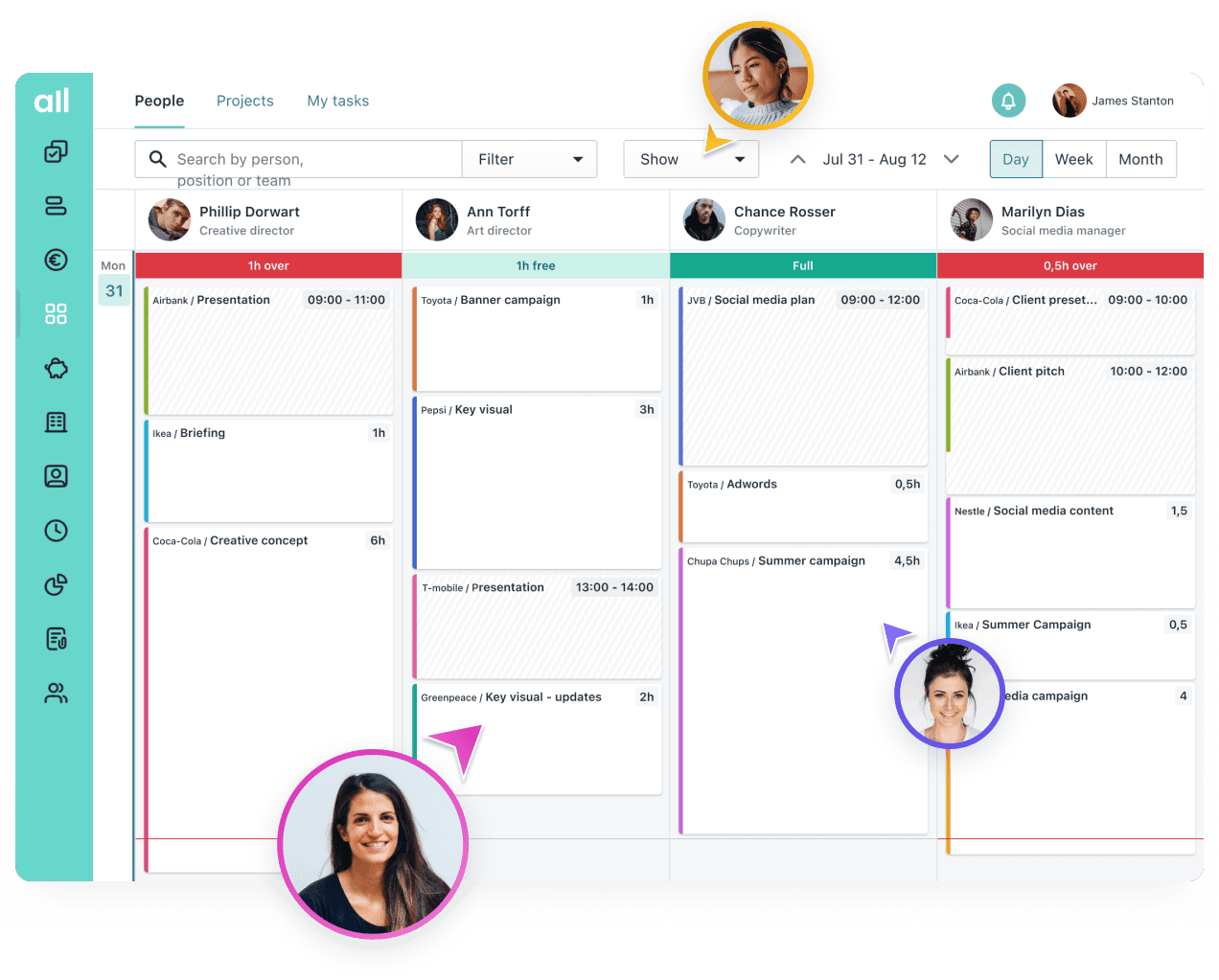 Plan your team's time together. Collaboratively.
As team leaders, you have complete control over each individual's time allocation.
Plan on one screen collaboratively with others
Book multiple team members for shared work time
Distinguish between projects with color‑coding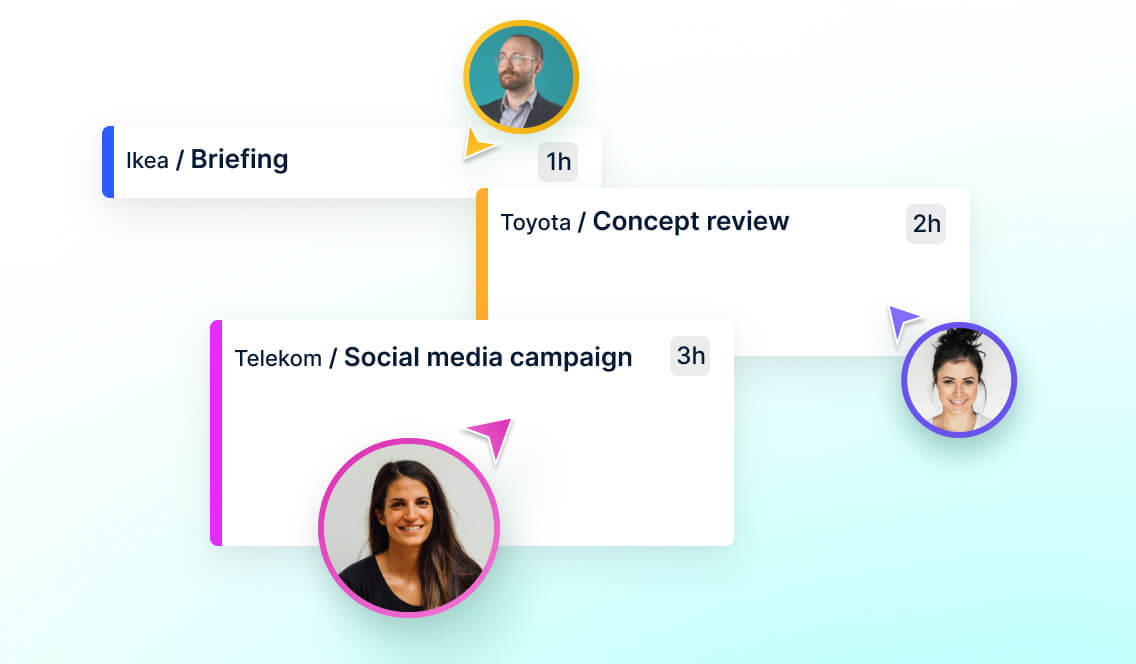 Reassign tasks. Edit, split, duplicate.
You're the boss.
We understand the dynamics of daily task planning. You have complete flexibility in rescheduling tasks to optimize productivity. Down to the second.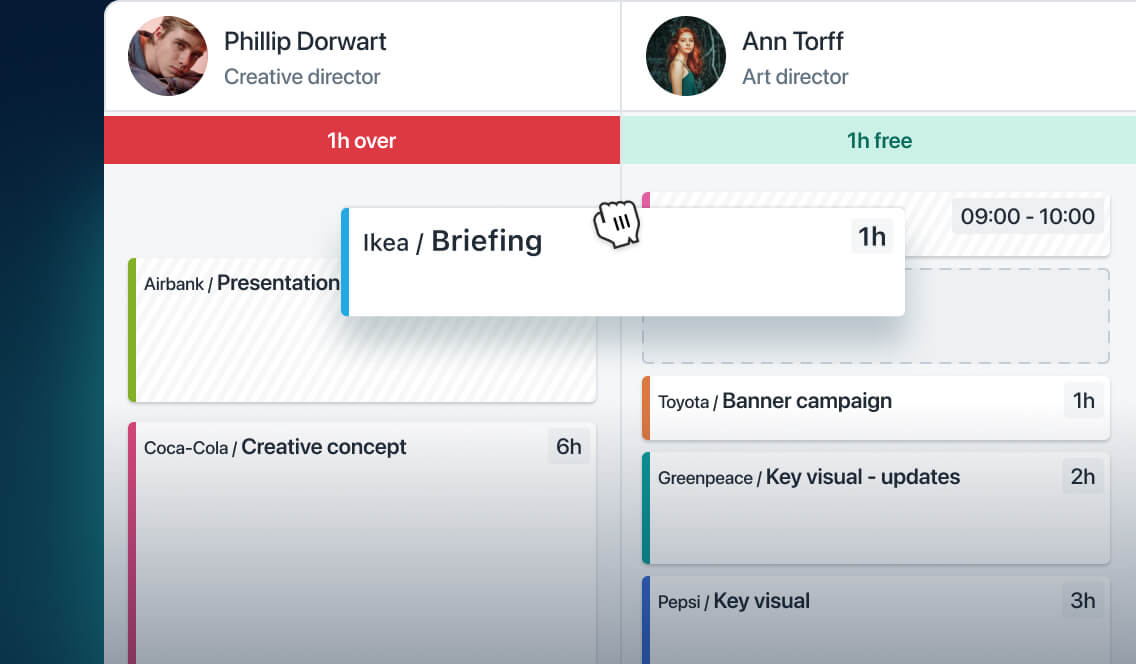 Is Allfred
the right fit

for your agency?

Try for free for a week. No strings attached. No prepayment needed.
Tailor made
For advertising, digital & PR agenciesfor advertising
Reliable
99.9% uptime
Secure
Corporate grade encryption & data securityCorporate grade encryption
On your deviceSupport
Dedicated support or 24/7 SLA24/7
HelpfulOnboarding
On site / remote onboardingAssistance