How Advertising Agency Works
An advertising agency, also known as an ad agency or advertising firm, plays a crucial role in the world of marketing and communication. Acting as a bridge between businesses and their desired audiences, these agencies offer a wide range of creative and strategic services to develop and execute successful advertising campaigns.
The process begins with a deep understanding of the client's objectives and goals. By thoroughly comprehending their vision, an ad agency can effectively craft a campaign that resonates with the target audience. This involves conducting market research to gain insights into consumer behavior, preferences, and trends.
Once armed with this knowledge, the agency's creative team works tirelessly to generate compelling ad concepts that capture attention and leave a lasting impression. These concepts are carefully crafted to align with the client's brand identity and messaging, ensuring consistency and brand recognition across various advertising channels.
Selecting the most appropriate media channels is another crucial aspect of an ad agency's work. With the ever-evolving landscape of advertising platforms, agencies must stay up-to-date with the latest trends and technologies to reach the target audience effectively. This may involve utilizing traditional channels such as television, radio, and print, as well as digital platforms like social media, search engines, and mobile applications.
In addition to creating and executing advertising campaigns, agencies often provide a range of supplementary services to enhance their clients' marketing efforts. These services may include graphic design, copywriting, media buying, and digital marketing strategies. By offering a comprehensive suite of services, ad agencies ensure that their clients have all the necessary tools to effectively promote their products or services.
Measuring the performance of advertising campaigns is a crucial step in the agency's workflow. By analyzing key metrics such as reach, engagement, and conversion rates, agencies can assess the effectiveness of their strategies and make data-driven decisions for future campaigns. This data-driven approach allows for continuous improvement and optimization, ensuring that each campaign delivers the desired results.
In summary, an advertising agency acts as a strategic partner for businesses, helping them navigate the complex world of advertising and communication. By providing creative expertise, market insights, and a range of services, these agencies empower their clients to effectively reach their target audiences and achieve their marketing objectives.
Related terms
Allfred guides your agency's
financial process
Get more billable hours
and manage team happiness
Save up to 60% of time spent on administrative tasks through automation and streamlined processes, allowing teams to focus more on creativity and strategy.
Integrated resources & tasks planning
Capacity booking, conflict detection and 1‑click time tracking
Better work‑life balance and motivated team
Learn about Resource planning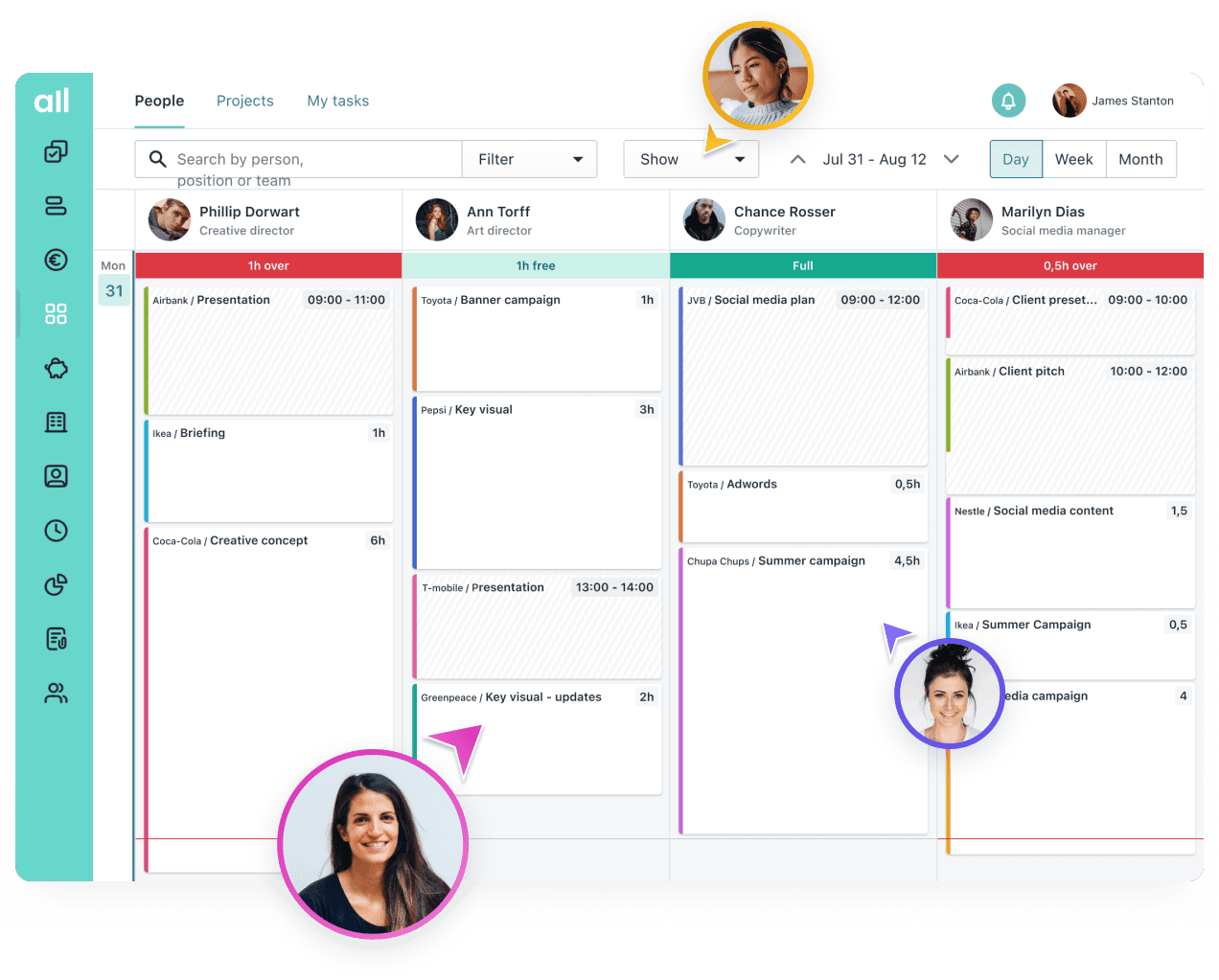 Plan your team's time together. Collaboratively.
As team leaders, you have complete control over each individual's time allocation.
Plan on one screen collaboratively with others
Book multiple team members for shared work time
Distinguish between projects with color‑coding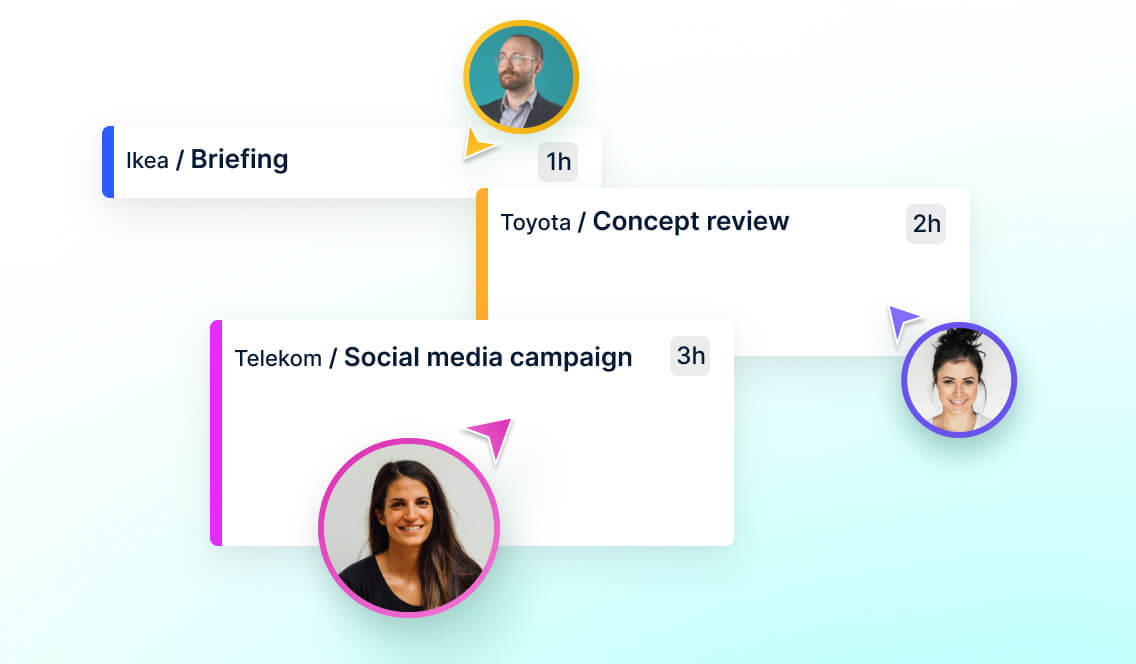 Reassign tasks. Edit, split, duplicate.
You're the boss.
We understand the dynamics of daily task planning. You have complete flexibility in rescheduling tasks to optimize productivity. Down to the second.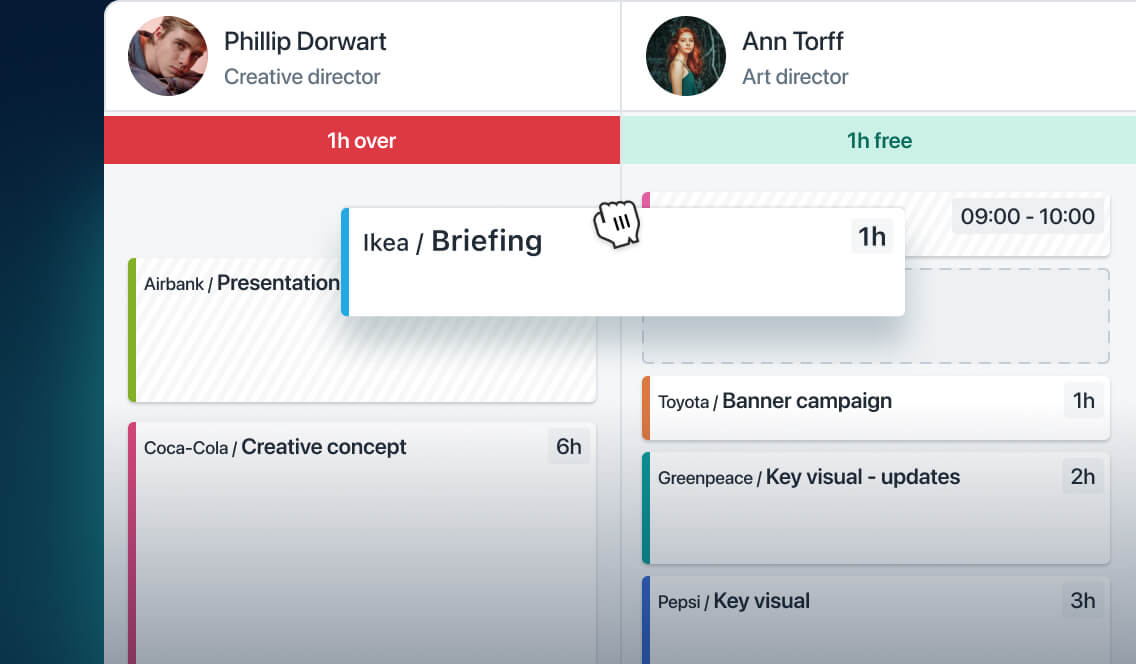 Is Allfred
the right fit

for your agency?

Try for free for a week. No strings attached. No prepayment needed.
Tailor made
For advertising, digital & PR agenciesfor advertising
Reliable
99.9% uptime
Secure
Corporate grade encryption & data securityCorporate grade encryption
On your deviceSupport
Dedicated support or 24/7 SLA24/7
HelpfulOnboarding
On site / remote onboardingAssistance