Proposals
In the dynamic world of advertising, proposals play a crucial role in the success of an ad agency, PR agency, or any advertising agency. These formal documents serve as a powerful tool to present innovative ideas, strategic plans, and enticing offers to potential clients, partners, or stakeholders. By meticulously outlining the scope of work, deliverables, timeline, and budget for a specific project or campaign, marketing proposals aim to secure valuable business opportunities and foster fruitful collaborations.
Marketing proposals act as a comprehensive roadmap, guiding both the agency and the client towards a shared vision. They provide a detailed overview of the proposed strategies, highlighting the unique selling points and competitive advantages that the agency brings to the table. By clearly articulating the objectives, target audience, and key messaging, proposals enable clients to envision the potential impact of the proposed campaign on their brand.
Moreover, these documents serve as a means of establishing credibility and trust in the competitive advertising industry. A well-crafted proposal showcases the agency's expertise, industry knowledge, and understanding of the client's specific needs and goals. It demonstrates the agency's ability to deliver exceptional results and effectively communicate the client's brand message to the intended audience.
Furthermore, marketing proposals serve as a basis for negotiation and collaboration. They provide a platform for open discussions, allowing both parties to align their expectations, address any concerns, and fine-tune the proposed strategies. By clearly defining the project scope, deliverables, and timeline, proposals ensure that all stakeholders are on the same page, minimizing misunderstandings and potential conflicts.
In summary, proposals are indispensable tools for ad agencies, PR agencies, and advertising agencies alike. They go beyond mere formal documents, serving as comprehensive guides that outline strategies, showcase expertise, and foster collaboration. By presenting a compelling case for the agency's capabilities and aligning the client's objectives, marketing proposals pave the way for successful campaigns and long-term partnerships in the ever-evolving world of advertising.
Related terms
Allfred guides your agency's
financial process
Increase project visibility
for less overwork and overtime
Improve team collaboration, reduce errors by automating tasks with AI‑powered suggestions and lead your team to higher efficiency and engagement.
Integrated project & task management
Project communication & attachments
AI‑powered assistance reduces errors by up to 80%
Learn about Project management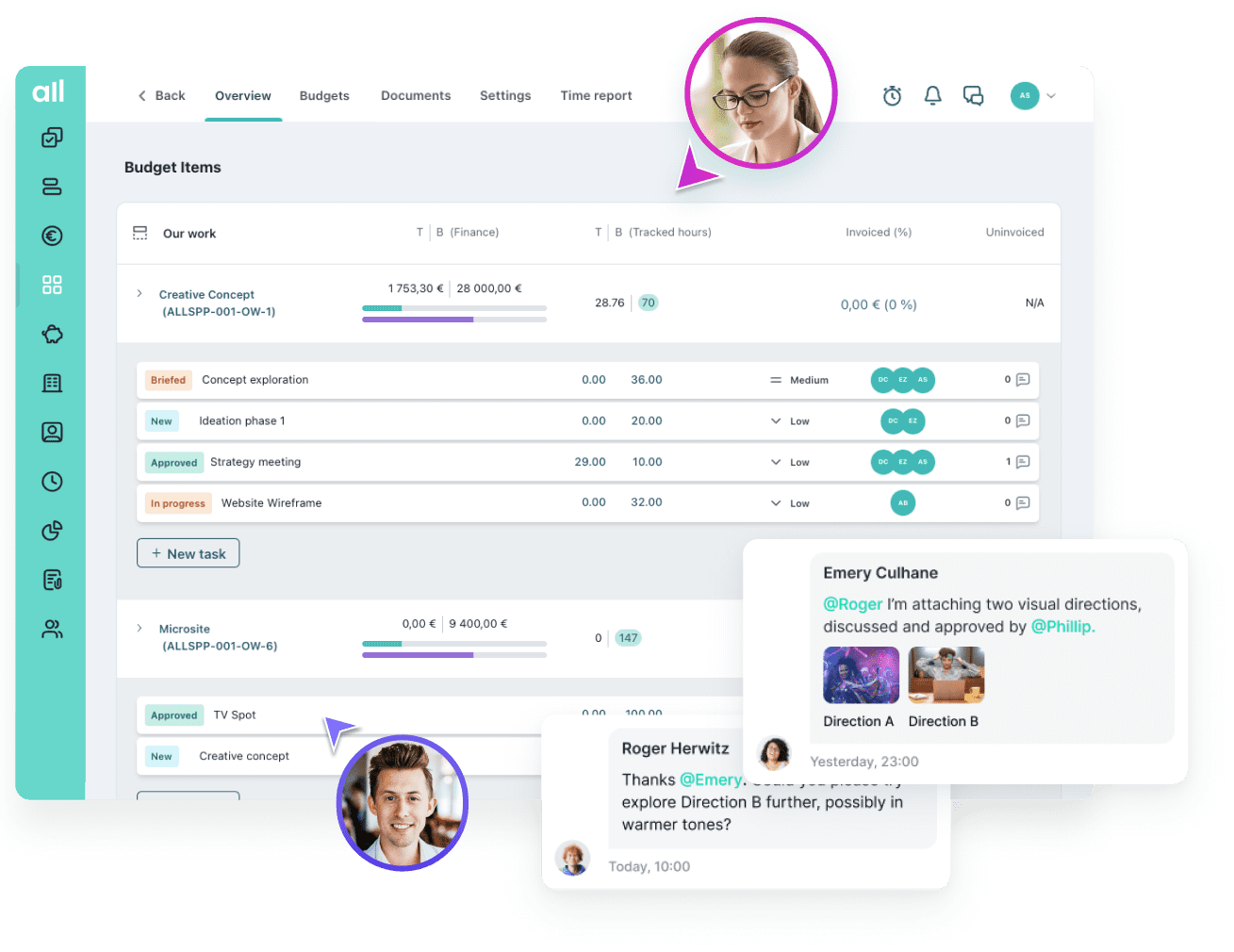 Gain a complete overview of all tasks, both assigned to you and those you've delegated
With a clear view of completed tasks and those still in the pipeline, maintaining order and tracking progress becomes effortless.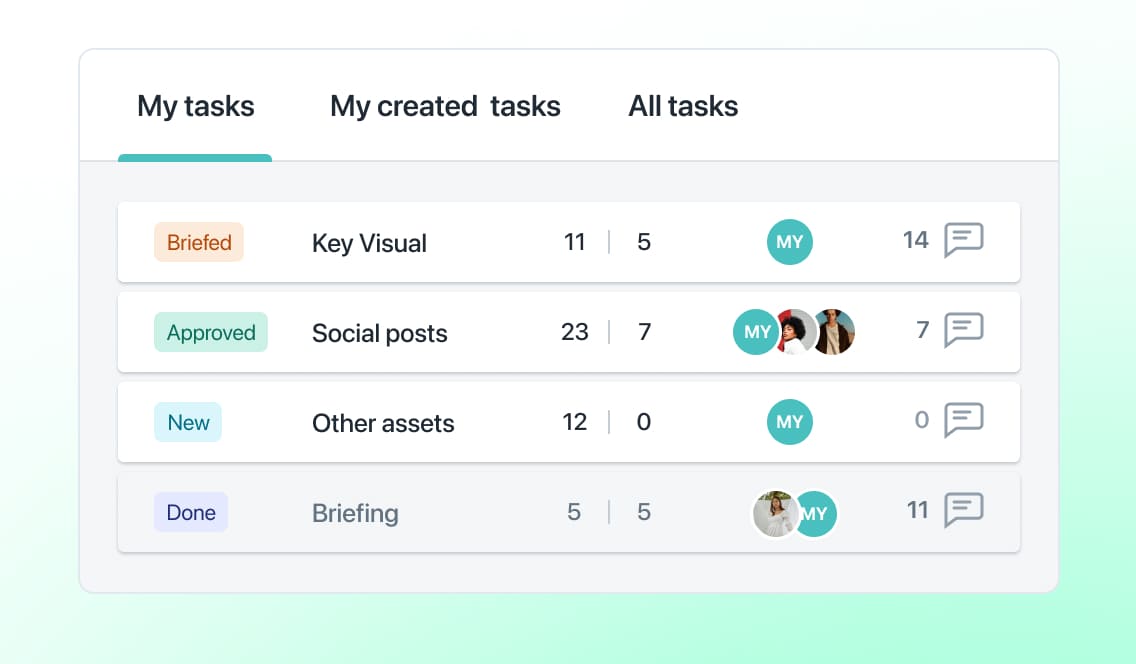 Integrated project and finance workflow
Advertising projects go beyond just your agency's tasks. Integrate all external collaborations and third-party expenses directly into your project workflow.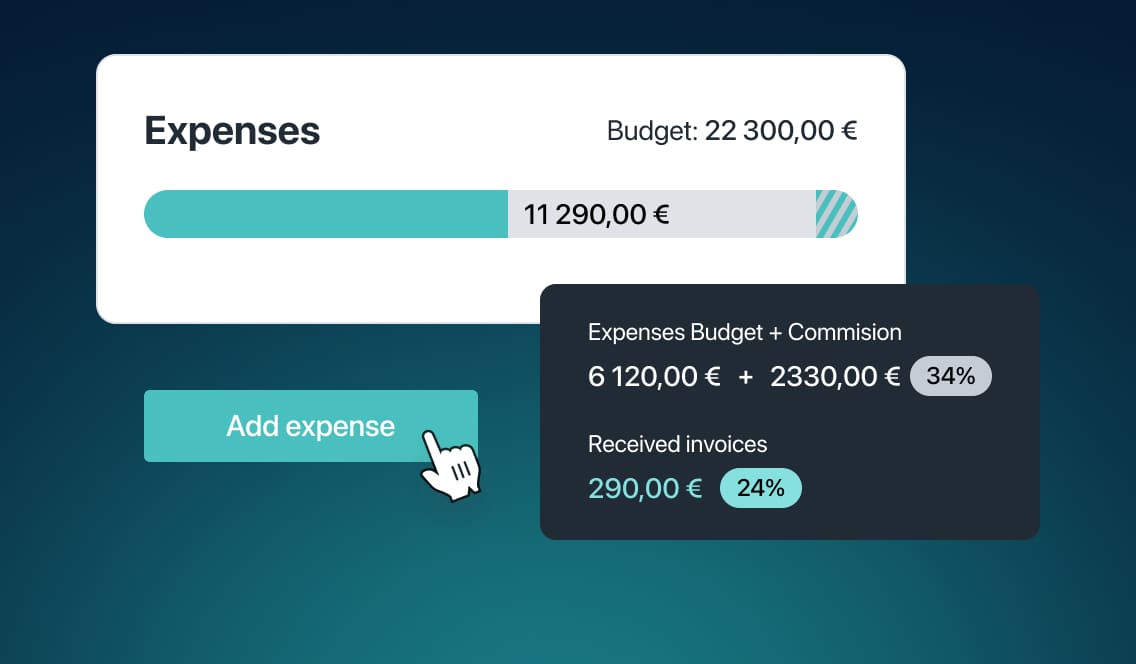 Is Allfred
the right fit

for your agency?

Try for free for a week. No strings attached. No prepayment needed.
Tailor made
For advertising, digital & PR agenciesfor advertising
Reliable
99.9% uptime
Secure
Corporate grade encryption & data securityCorporate grade encryption
On your deviceSupport
Dedicated support or 24/7 SLA24/7
HelpfulOnboarding
On site / remote onboardingAssistance