Full-Service Agency
A Full-Service Agency, also known as an advertising agency or ad agency, is a crucial player in the dynamic world of marketing and advertising. This term encompasses a professional entity that goes beyond the conventional boundaries of a typical agency, offering a comprehensive range of services to cater to the diverse needs of clients in the advertising industry.
At its core, a Full-Service Agency acts as a strategic partner, collaborating with businesses to develop effective marketing campaigns that drive brand awareness, customer engagement, and ultimately, business growth. With a deep understanding of the ever-evolving advertising landscape, these agencies possess the expertise to navigate through the complexities of the creative process.
One of the key strengths of a Full-Service Agency lies in its ability to provide end-to-end solutions. From the initial stages of strategy development, where market research and consumer insights are meticulously analyzed, to the execution phase, encompassing creative design, media planning, and digital marketing, these agencies ensure a seamless and integrated approach to maximize the impact of advertising efforts.
Moreover, a Full-Service Agency recognizes the importance of public relations (PR) in shaping a brand's image and reputation. By incorporating PR services into their repertoire, these agencies effectively manage communication between businesses and their target audience, ensuring consistent messaging and fostering positive relationships.
For juniors in the advertising industry, understanding the concept of a Full-Service Agency is crucial. It provides them with a holistic view of the multifaceted nature of advertising, emphasizing the importance of collaboration, creativity, and strategic thinking. By working alongside professionals in a Full-Service Agency, juniors gain exposure to various aspects of the creative process, allowing them to develop a well-rounded skill set and a comprehensive understanding of the industry.
In summary, a Full-Service Agency is an all-encompassing entity that offers a wide array of services, ranging from strategy development to creative design, media planning, digital marketing, and public relations. By leveraging their expertise and industry knowledge, these agencies play a pivotal role in helping businesses achieve their marketing objectives and stand out in the competitive advertising landscape.
Allfred guides your agency's
financial process
Increase project visibility
for less overwork and overtime
Improve team collaboration, reduce errors by automating tasks with AI‑powered suggestions and lead your team to higher efficiency and engagement.
Integrated project & task management
Project communication & attachments
AI‑powered assistance reduces errors by up to 80%
Learn about Project management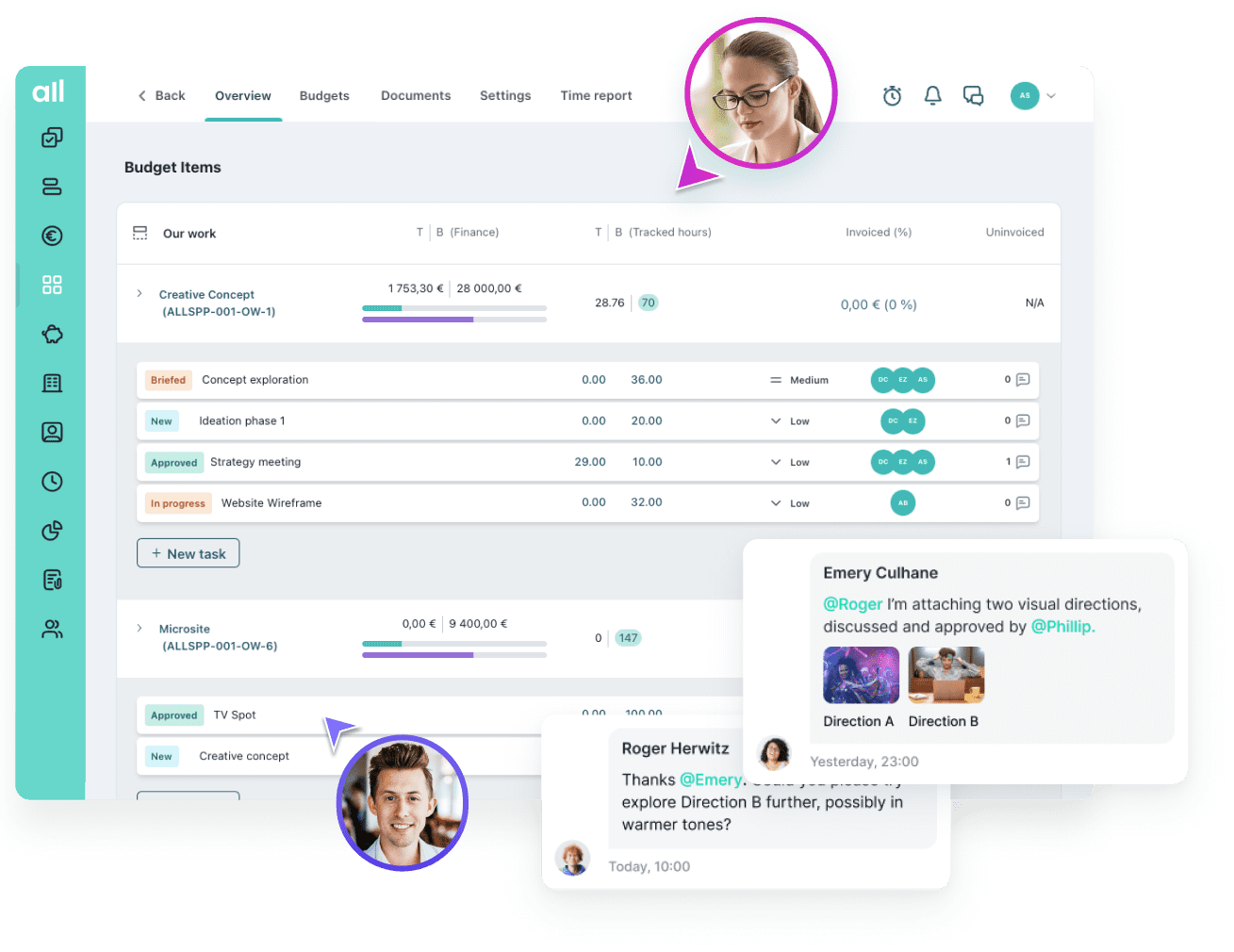 Gain a complete overview of all tasks, both assigned to you and those you've delegated
With a clear view of completed tasks and those still in the pipeline, maintaining order and tracking progress becomes effortless.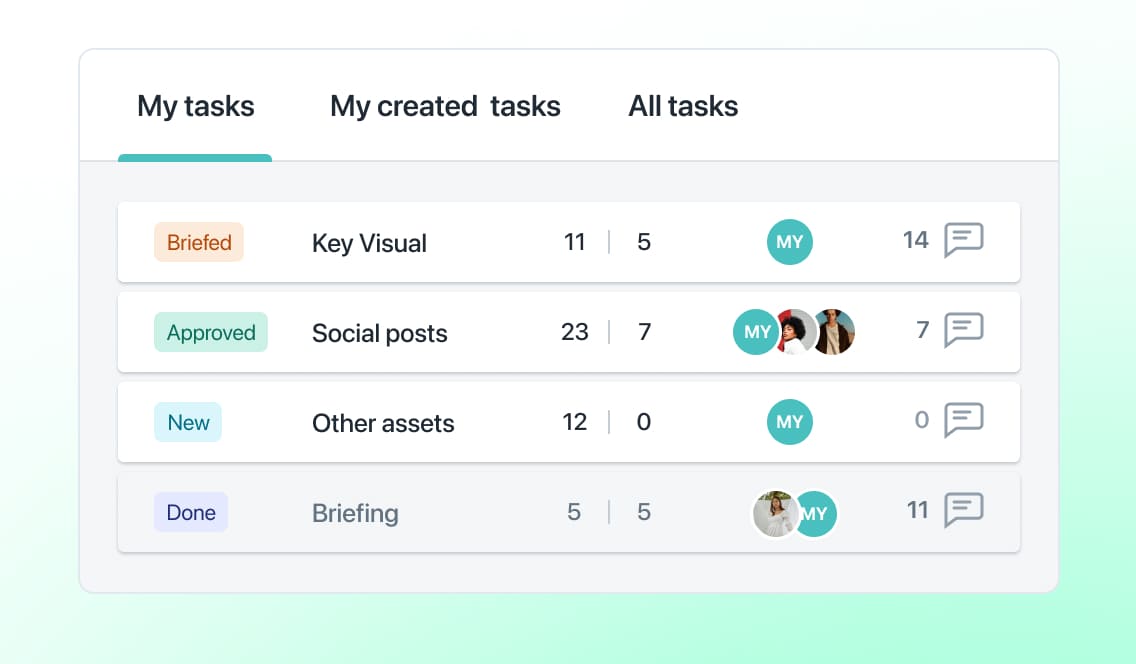 Integrated project and finance workflow
Advertising projects go beyond just your agency's tasks. Integrate all external collaborations and third-party expenses directly into your project workflow.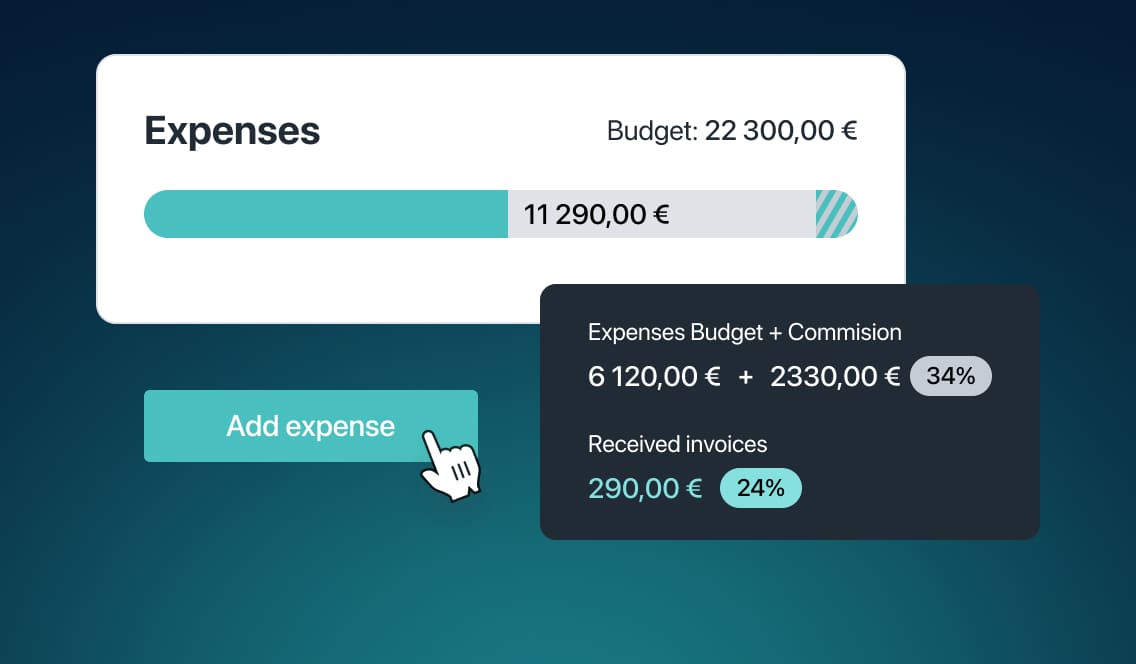 Is Allfred
the right fit

for your agency?

Try for free for a week. No strings attached. No prepayment needed.
Tailor made
For advertising, digital & PR agenciesfor advertising
Reliable
99.9% uptime
Secure
Corporate grade encryption & data securityCorporate grade encryption
On your deviceSupport
Dedicated support or 24/7 SLA24/7
HelpfulOnboarding
On site / remote onboardingAssistance