Project Manager Creative Agency
A Project Manager in a Creative Agency is a highly skilled professional who plays a crucial role in overseeing and coordinating various creative projects within the agency. Their primary responsibility is to ensure the smooth execution and successful completion of these projects, while maintaining a high level of quality and meeting client expectations.
Working closely with the creative teams, the Project Manager acts as a bridge between the clients and the agency, effectively communicating project requirements, objectives, and timelines. They possess a deep understanding of the advertising industry and are well-versed in the unique challenges and dynamics of working in a fast-paced, ever-evolving creative environment.
One of the key strengths of a Project Manager in a Creative Agency is their ability to effectively manage resources, both human and material. They allocate tasks and responsibilities to the creative teams, ensuring that each team member is utilizing their skills and expertise to their fullest potential. By fostering collaboration and teamwork, the Project Manager ensures that all project stakeholders are aligned and working towards a common goal.
In addition to their project management skills, a Project Manager in a Creative Agency also possesses a keen eye for detail and a strong sense of creativity. They understand the importance of maintaining the agency's brand identity and ensuring that the final deliverables align with the client's vision and objectives. They provide valuable insights and guidance to the creative teams, helping them navigate through challenges and find innovative solutions.
Furthermore, the Project Manager in a Creative Agency is well-versed in the latest industry trends and best practices. They stay updated on emerging technologies, tools, and techniques that can enhance the agency's creative capabilities and improve project outcomes. By staying ahead of the curve, they are able to provide valuable guidance to junior team members, helping them develop their skills and grow within the advertising industry.
In summary, a Project Manager in a Creative Agency is a vital role that ensures the successful execution of creative projects. They possess a unique blend of project management expertise, industry knowledge, and creative vision. By effectively managing resources, fostering collaboration, and staying abreast of industry trends, they contribute to the overall success of the agency and provide valuable guidance to juniors in the advertising field.
Related terms
Allfred guides your agency's
financial process
Increase project visibility
for less overwork and overtime
Improve team collaboration, reduce errors by automating tasks with AI‑powered suggestions and lead your team to higher efficiency and engagement.
Integrated project & task management
Project communication & attachments
AI‑powered assistance reduces errors by up to 80%
Learn about Project management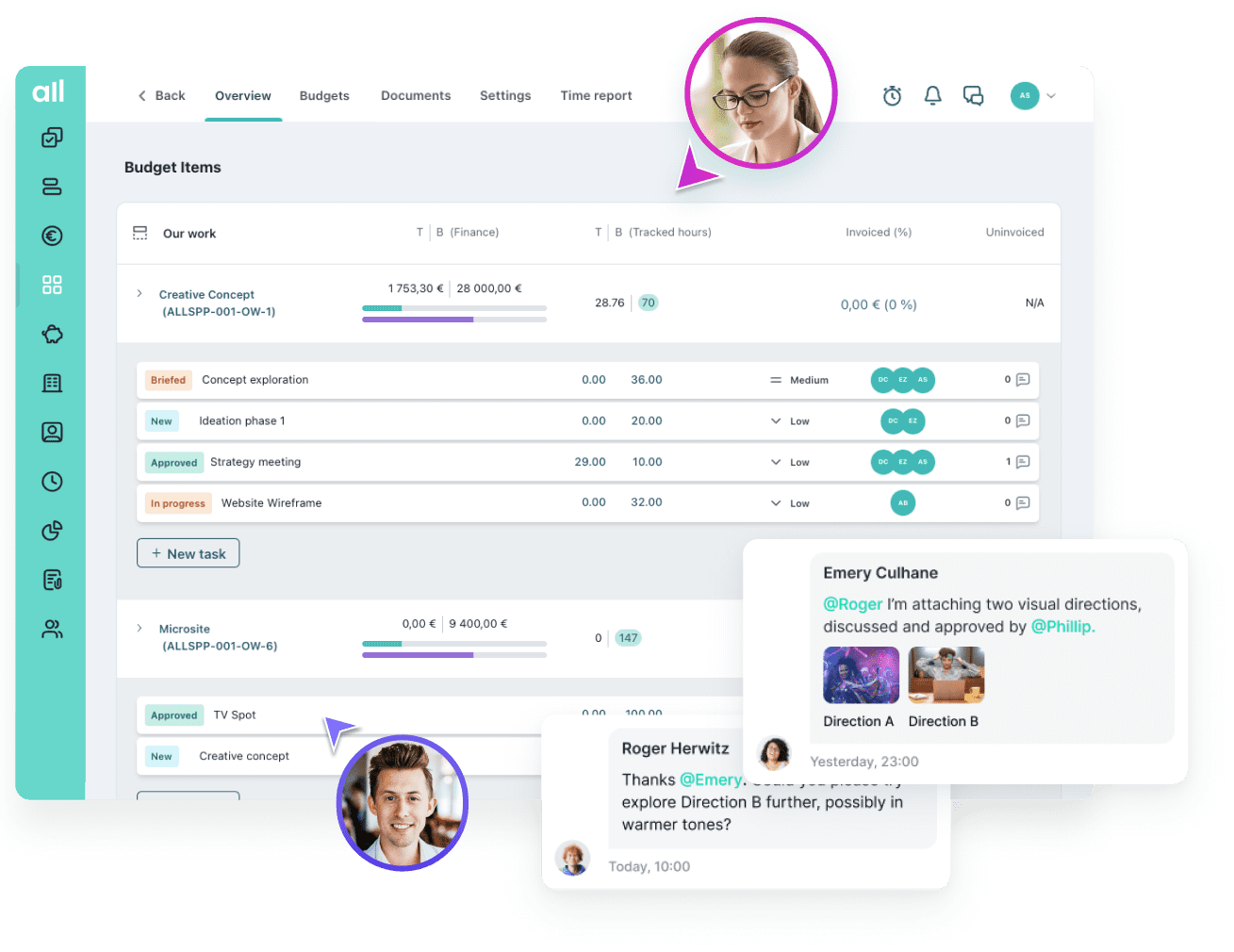 Gain a complete overview of all tasks, both assigned to you and those you've delegated
With a clear view of completed tasks and those still in the pipeline, maintaining order and tracking progress becomes effortless.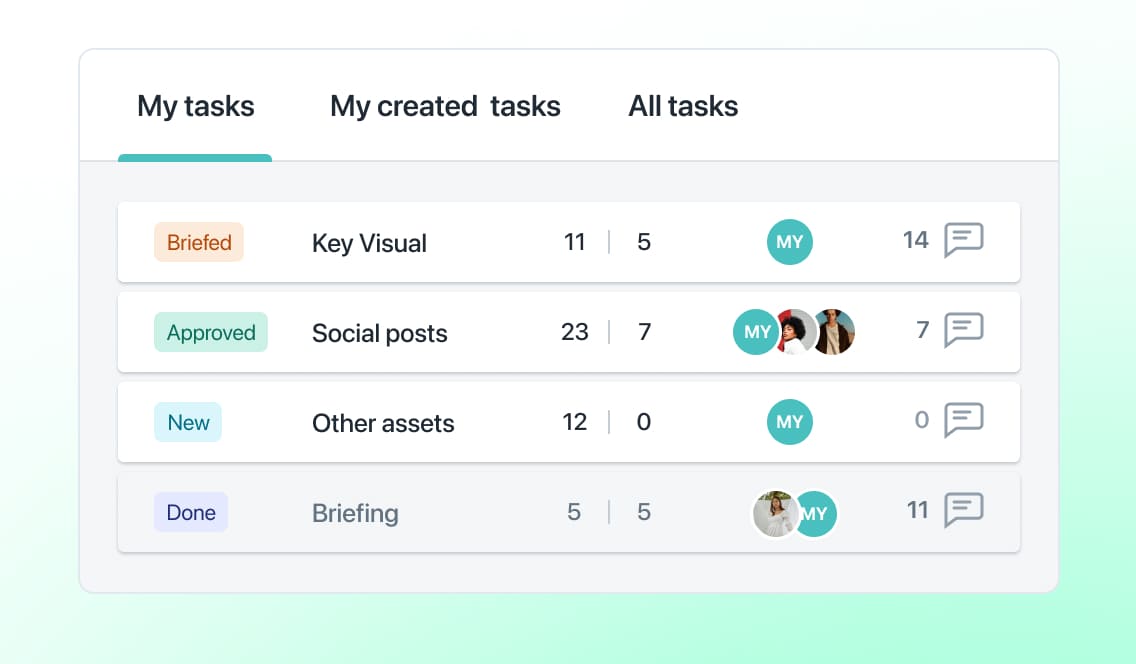 Integrated project and finance workflow
Advertising projects go beyond just your agency's tasks. Integrate all external collaborations and third-party expenses directly into your project workflow.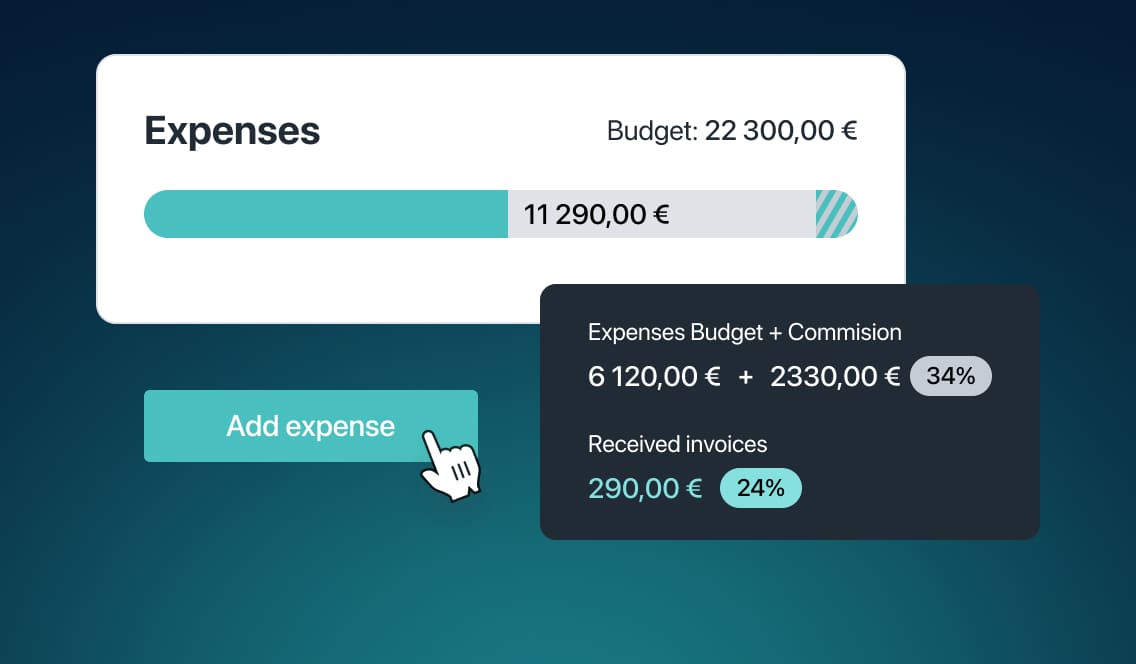 Is Allfred
the right fit

for your agency?

Try for free for a week. No strings attached. No prepayment needed.
Tailor made
For advertising, digital & PR agenciesfor advertising
Reliable
99.9% uptime
Secure
Corporate grade encryption & data securityCorporate grade encryption
On your deviceSupport
Dedicated support or 24/7 SLA24/7
HelpfulOnboarding
On site / remote onboardingAssistance