Professional Services Automation (PSA)
Professional Services Automation (PSA) software is an indispensable tool utilized by ad agencies, advertising firms, PR agencies, and other professional service providers to streamline and optimize their operations. This comprehensive solution empowers these agencies to efficiently manage and oversee multiple facets of their business, ensuring seamless project execution and enhanced productivity.
At its core, PSA software serves as a centralized hub that enables ad agencies to effectively handle project management, ensuring that every task is meticulously planned, executed, and monitored. This includes assigning resources, tracking project progress, and ensuring timely delivery of high-quality work. By providing a holistic view of ongoing projects, PSA software enables agencies to maintain a firm grip on their workflow, ensuring that deadlines are met and client expectations are exceeded.
Moreover, PSA software offers robust time tracking capabilities, allowing agencies to accurately record and analyze the time spent on various tasks and projects. This not only facilitates precise billing and invoicing but also provides valuable insights into resource allocation and project profitability. By having a clear understanding of how time is allocated, agencies can optimize their workforce, ensuring that the right talent is assigned to the right projects, ultimately maximizing efficiency and profitability.
Resource allocation is another critical aspect that PSA software effectively addresses. With its advanced features, agencies can easily assign resources based on their availability, skills, and expertise. This ensures that projects are adequately staffed, preventing overburdening of employees and avoiding potential bottlenecks. By optimizing resource allocation, agencies can maintain a balanced workload, enhancing productivity and minimizing burnout.
Furthermore, PSA software simplifies the billing process, enabling agencies to accurately track and invoice clients for the services rendered. By automating this crucial aspect, agencies can eliminate manual errors, streamline financial operations, and ensure timely payments. This not only enhances cash flow but also strengthens client relationships, as transparent and accurate billing instills trust and confidence.
In summary, PSA software is an invaluable asset for ad agencies, advertising firms, and PR agencies, providing a comprehensive suite of tools to effectively manage their operations. By seamlessly integrating project management, time tracking, resource allocation, and billing functionalities, this software empowers agencies to optimize their workflow, enhance productivity, and deliver exceptional results to their clients.
Related terms
Allfred guides your agency's
financial process
Increase project visibility
for less overwork and overtime
Improve team collaboration, reduce errors by automating tasks with AI‑powered suggestions and lead your team to higher efficiency and engagement.
Integrated project & task management
Project communication & attachments
AI‑powered assistance reduces errors by up to 80%
Learn about Project management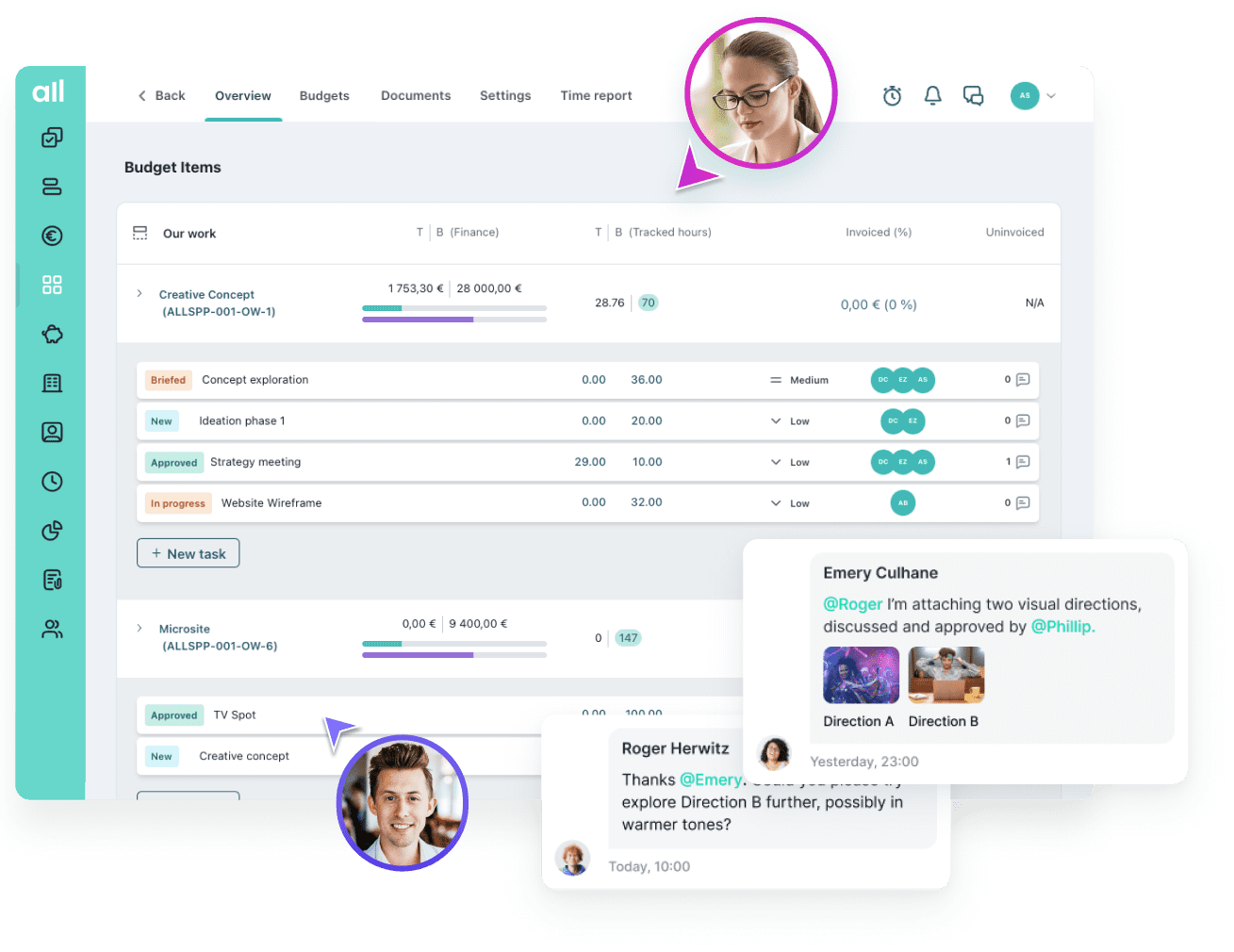 Gain a complete overview of all tasks, both assigned to you and those you've delegated
With a clear view of completed tasks and those still in the pipeline, maintaining order and tracking progress becomes effortless.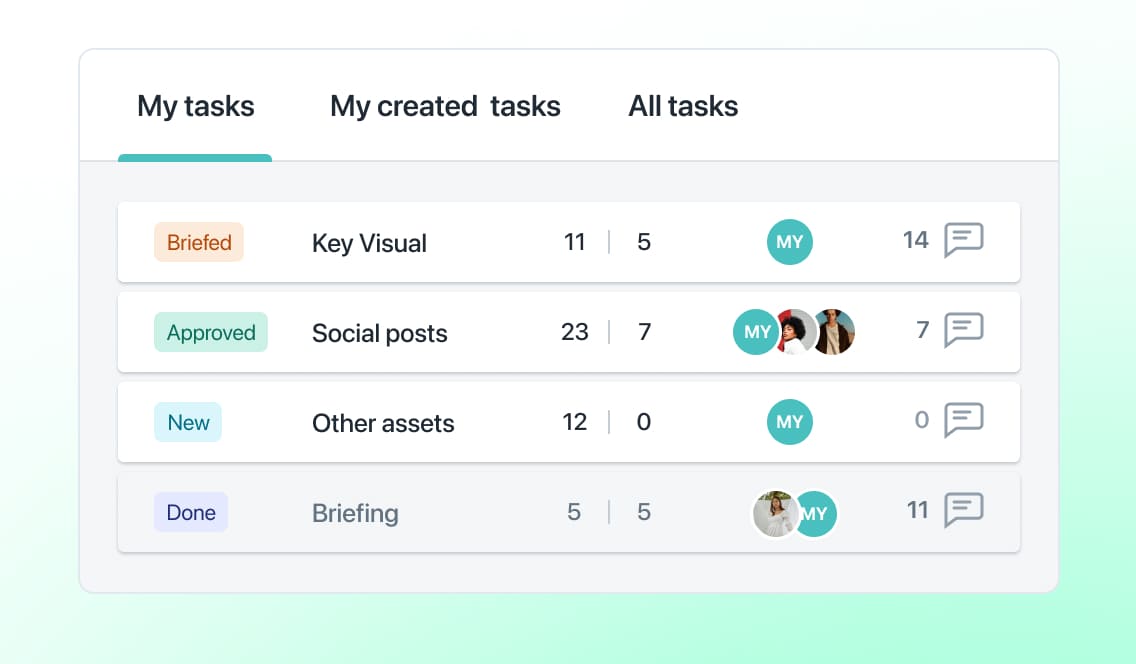 Integrated project and finance workflow
Advertising projects go beyond just your agency's tasks. Integrate all external collaborations and third-party expenses directly into your project workflow.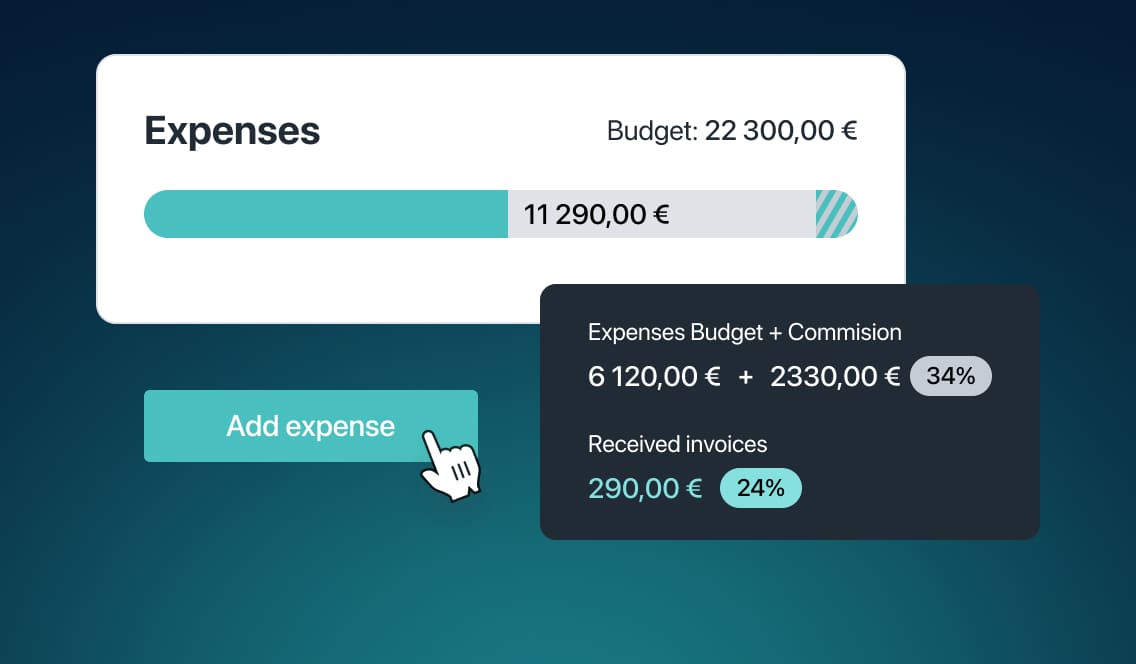 Is Allfred
the right fit

for your agency?

Try for free for a week. No strings attached. No prepayment needed.
Tailor made
For advertising, digital & PR agenciesfor advertising
Reliable
99.9% uptime
Secure
Corporate grade encryption & data securityCorporate grade encryption
On your deviceSupport
Dedicated support or 24/7 SLA24/7
HelpfulOnboarding
On site / remote onboardingAssistance