Perfect Project
In the dynamic world of advertising, a Perfect Project is the epitome of excellence and achievement for any ad agency or PR agency. It encompasses an ideal and successful endeavor that goes beyond mere completion within the allocated time, budget, and scope. A Perfect Project is a harmonious blend of creativity, strategic thinking, and meticulous execution, resulting in a masterpiece that not only meets but surpasses client expectations and objectives.
Within the realm of advertising, where deadlines are tight and budgets are often constrained, a Perfect Project stands as a testament to the agency's ability to deliver exceptional results. It signifies a project that is flawlessly executed, leaving no room for errors or compromises. From the initial brainstorming sessions to the final delivery, every aspect of the project is meticulously planned and executed, ensuring that every detail aligns with the client's vision and goals.
A Perfect Project is not just about meeting the client's requirements; it is about going above and beyond to exceed their expectations. It involves understanding the client's brand, target audience, and market dynamics to create a campaign that resonates deeply and drives tangible results. It requires a deep understanding of the industry, trends, and consumer behavior, enabling the agency to craft a compelling narrative that captures attention and leaves a lasting impact.
Moreover, a Perfect Project is a collaborative effort that involves seamless coordination between various teams within the agency. From account managers to creative directors, copywriters to designers, every individual plays a crucial role in bringing the project to life. Effective communication, efficient project management, and a shared commitment to excellence are the pillars that uphold the success of a Perfect Project.
For juniors in the advertising industry, understanding the concept of a Perfect Project is vital. It serves as a guiding light, setting the benchmark for excellence and providing a roadmap for success. By striving to achieve perfection in every project, juniors can develop their skills, learn from experienced professionals, and contribute to the growth and reputation of their agency.
In conclusion, a Perfect Project in the advertising world is not just a mere completion of tasks within constraints; it is an extraordinary feat that showcases the agency's expertise, creativity, and dedication. It is a project that not only meets client expectations but exceeds them, leaving a lasting impression in the competitive landscape of the advertising industry.
Related terms
Allfred guides your agency's
financial process
Increase project visibility
for less overwork and overtime
Improve team collaboration, reduce errors by automating tasks with AI‑powered suggestions and lead your team to higher efficiency and engagement.
Integrated project & task management
Project communication & attachments
AI‑powered assistance reduces errors by up to 80%
Learn about Project management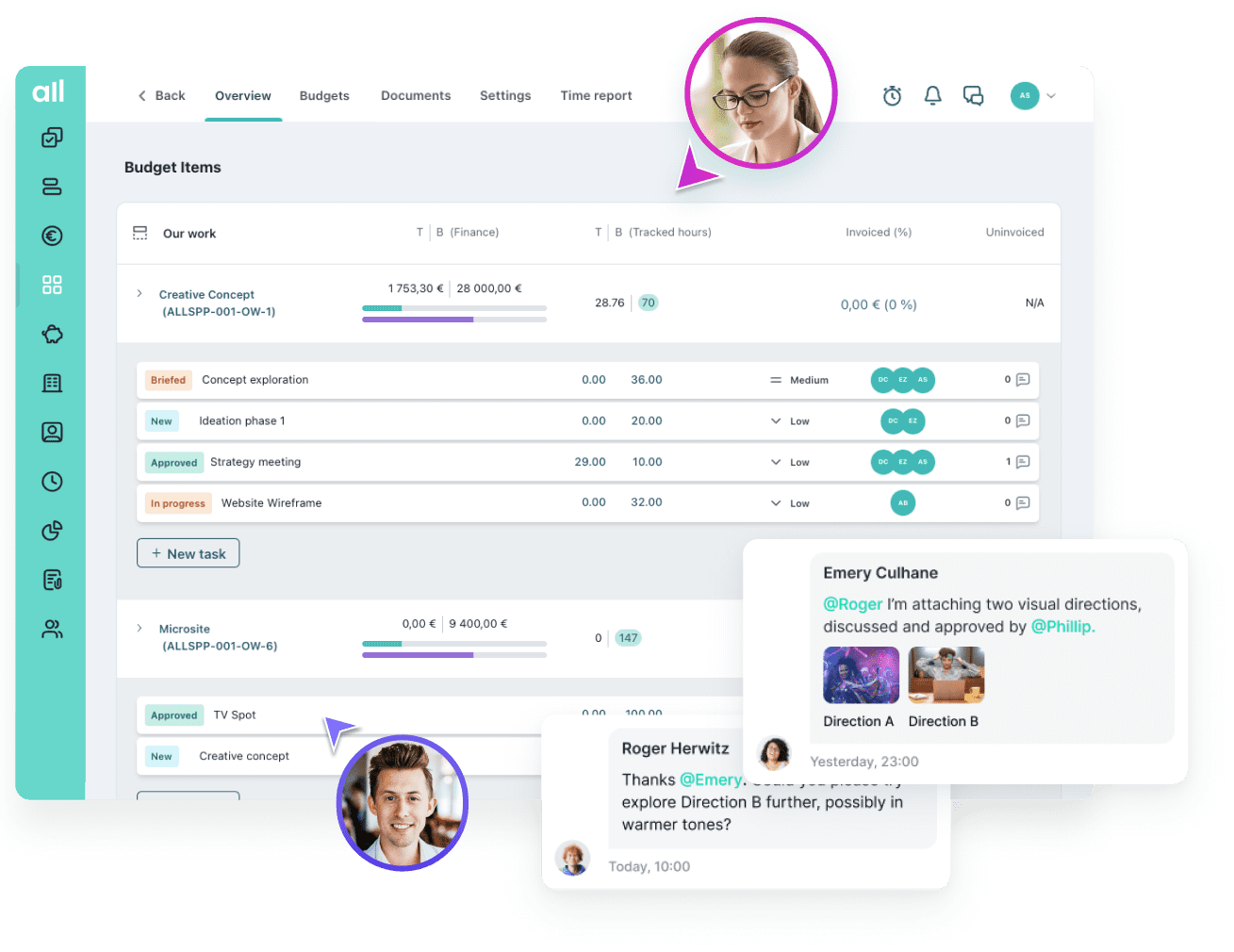 Gain a complete overview of all tasks, both assigned to you and those you've delegated
With a clear view of completed tasks and those still in the pipeline, maintaining order and tracking progress becomes effortless.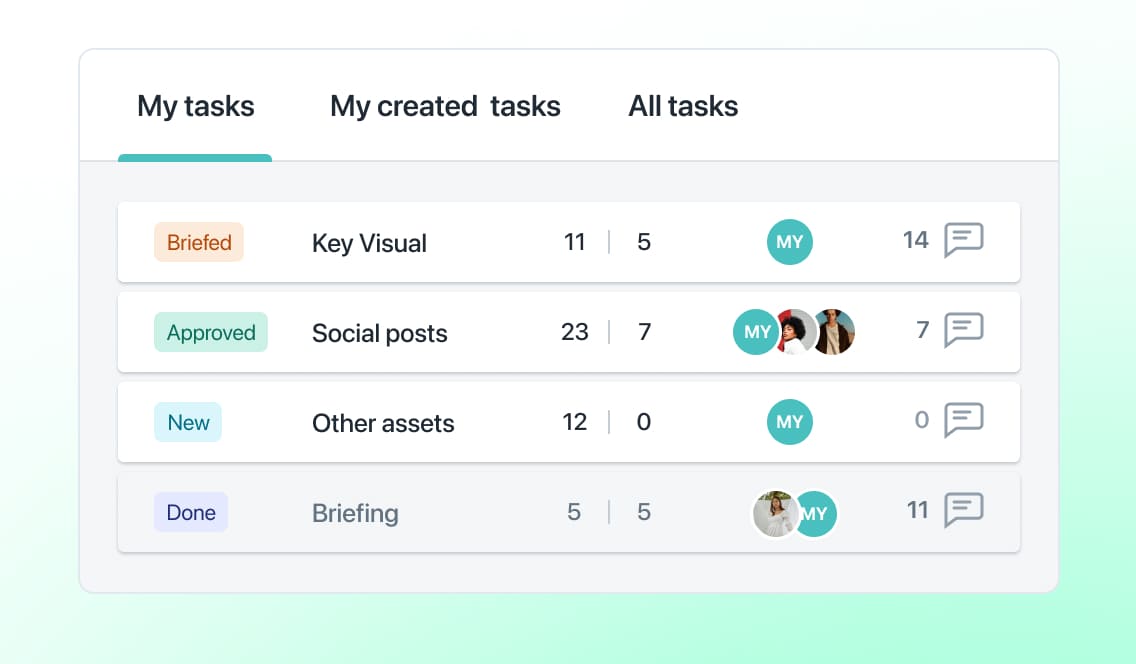 Integrated project and finance workflow
Advertising projects go beyond just your agency's tasks. Integrate all external collaborations and third-party expenses directly into your project workflow.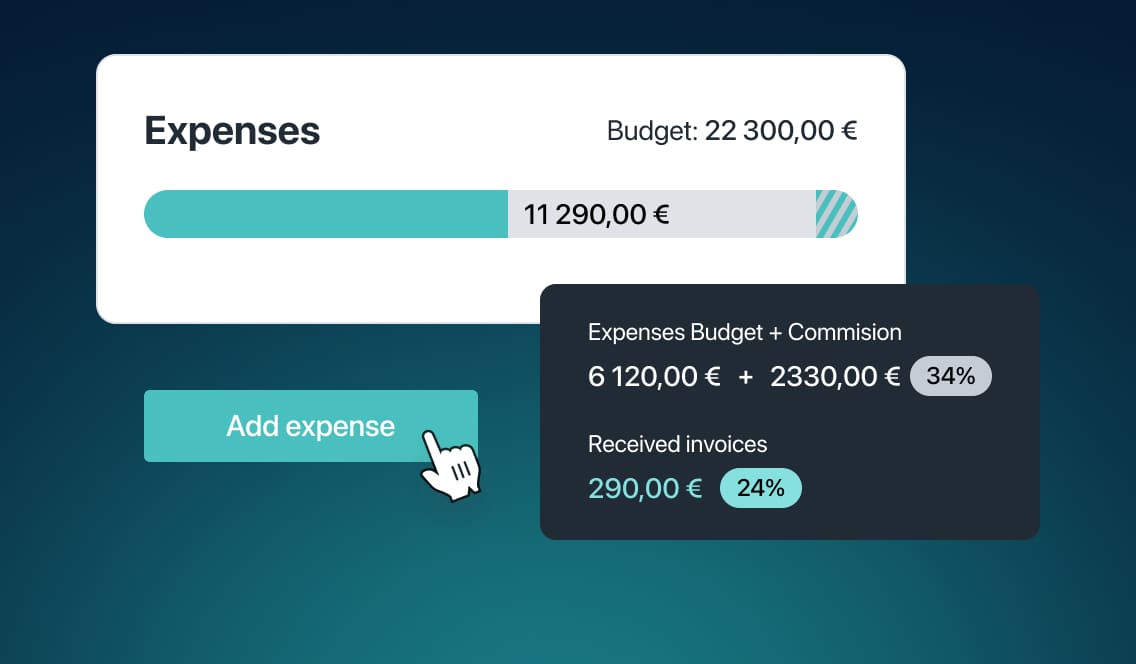 Is Allfred
the right fit

for your agency?

Try for free for a week. No strings attached. No prepayment needed.
Tailor made
For advertising, digital & PR agenciesfor advertising
Reliable
99.9% uptime
Secure
Corporate grade encryption & data securityCorporate grade encryption
On your deviceSupport
Dedicated support or 24/7 SLA24/7
HelpfulOnboarding
On site / remote onboardingAssistance