External Production
External production in the context of an advertising agency refers to the strategic practice of outsourcing or delegating certain marketing activities to external vendors or production houses. This approach allows the agency to tap into specialized expertise and resources that may not be available in-house, thereby enhancing the overall efficiency and effectiveness of the agency's operations.
One of the key aspects of external production is the delegation of specific marketing tasks, such as content creation, design, or printing, to external vendors who possess the necessary skills and capabilities in these areas. By leveraging the expertise of these external resources, the agency can ensure that the marketing deliverables meet the highest standards of quality and creativity.
Collaboration plays a crucial role in the external production process. The agency works closely with the external vendors, fostering a strong partnership to ensure seamless execution of marketing campaigns. This collaboration involves effective communication, clear briefings, and regular feedback exchanges to align the agency's vision and objectives with the external resources' capabilities and deliverables.
By engaging in external production, advertising agencies can benefit from a range of advantages. Firstly, it allows the agency to focus on its core competencies, such as strategy development and client management, while leaving specialized tasks to external experts. This not only saves time and resources but also enables the agency to deliver high-quality work within tight deadlines.
Furthermore, external production provides access to a diverse pool of talent and resources that may not be readily available within the agency. This enables the agency to tap into fresh perspectives, innovative ideas, and cutting-edge technologies, ultimately enhancing the overall creativity and competitiveness of the agency's offerings.
In summary, external production is a strategic approach employed by advertising agencies to outsource specific marketing activities to external vendors or production houses. By collaborating with these external resources, agencies can leverage specialized expertise, enhance efficiency, and deliver high-quality marketing deliverables. This practice allows agencies to focus on their core competencies while accessing a diverse pool of talent and resources, ultimately driving success in the dynamic and ever-evolving advertising industry.
Allfred guides your agency's
financial process
Increase project visibility
for less overwork and overtime
Improve team collaboration, reduce errors by automating tasks with AI‑powered suggestions and lead your team to higher efficiency and engagement.
Integrated project & task management
Project communication & attachments
AI‑powered assistance reduces errors by up to 80%
Learn about Project management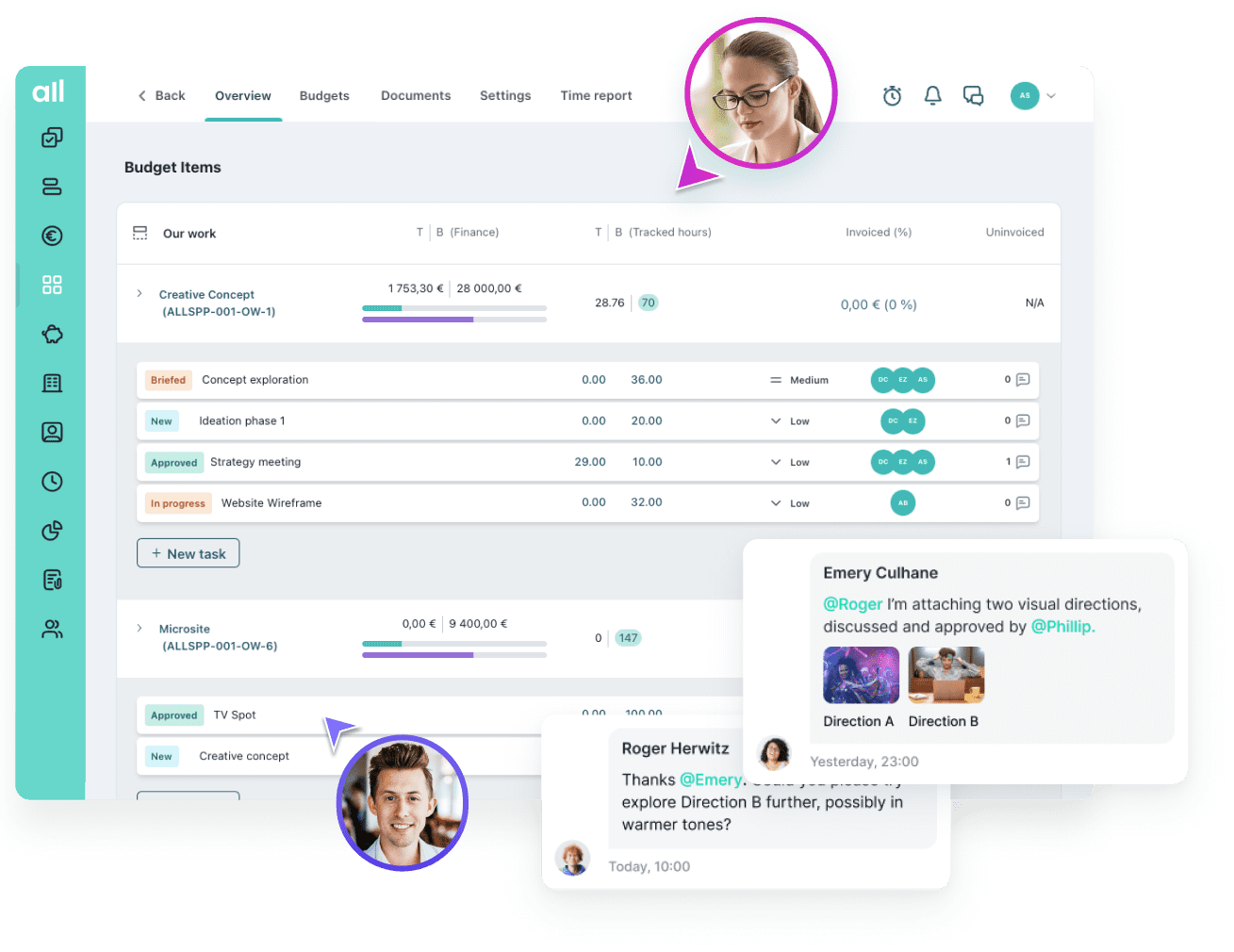 Gain a complete overview of all tasks, both assigned to you and those you've delegated
With a clear view of completed tasks and those still in the pipeline, maintaining order and tracking progress becomes effortless.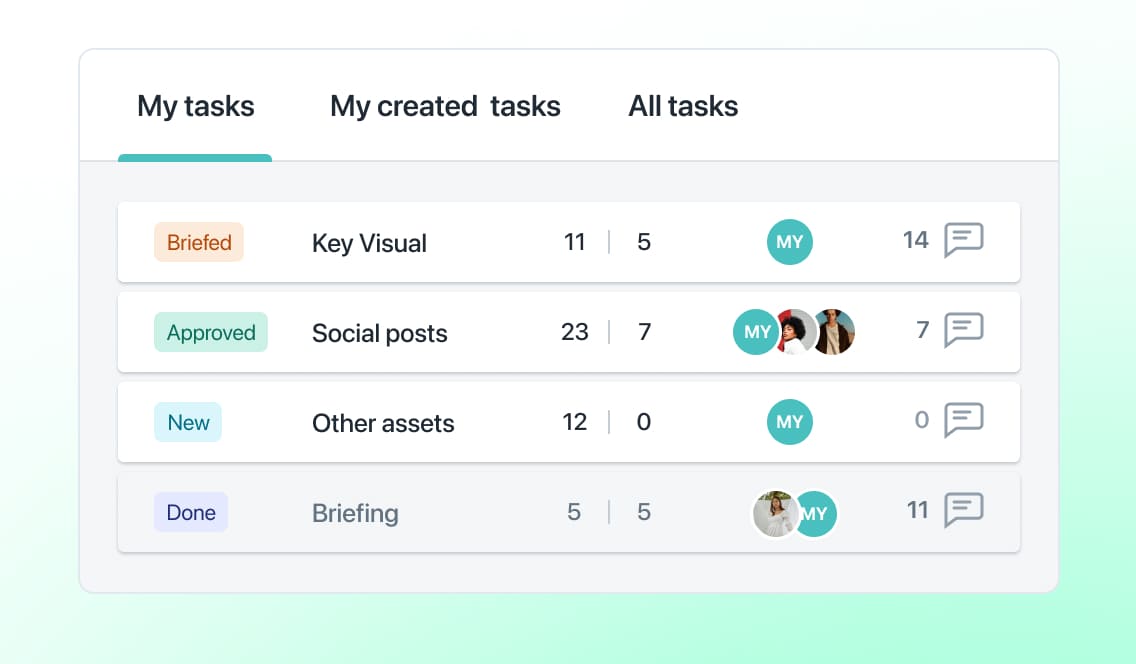 Integrated project and finance workflow
Advertising projects go beyond just your agency's tasks. Integrate all external collaborations and third-party expenses directly into your project workflow.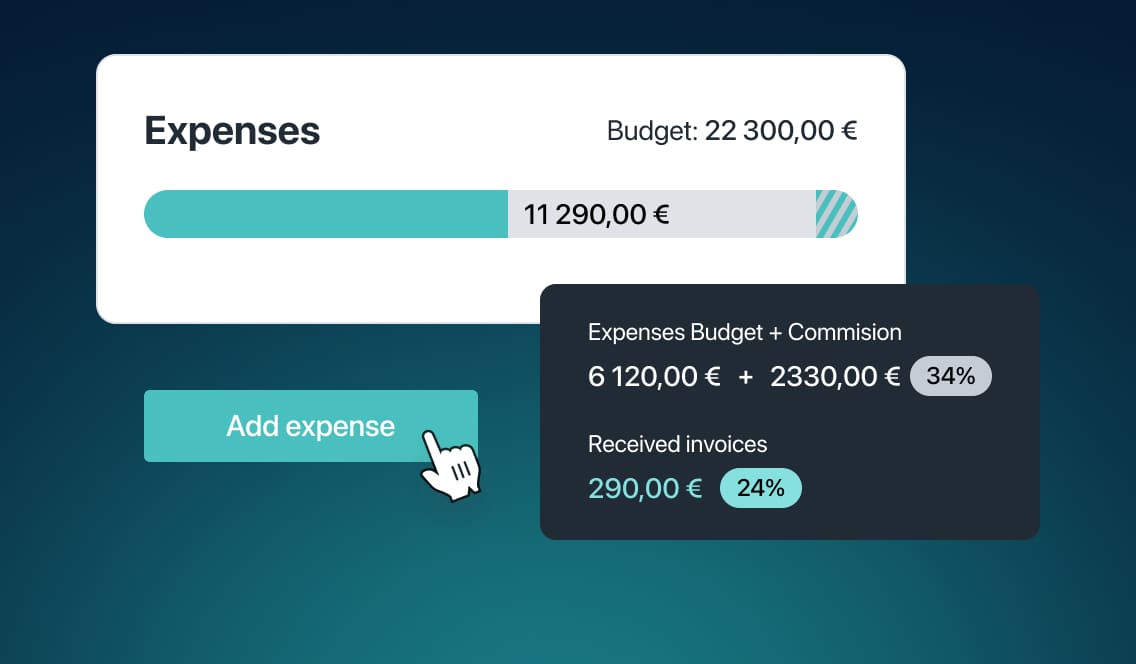 Is Allfred
the right fit

for your agency?

Try for free for a week. No strings attached. No prepayment needed.
Tailor made
For advertising, digital & PR agenciesfor advertising
Reliable
99.9% uptime
Secure
Corporate grade encryption & data securityCorporate grade encryption
On your deviceSupport
Dedicated support or 24/7 SLA24/7
HelpfulOnboarding
On site / remote onboardingAssistance