Advertising Agency Software
Advertising agency software, also known as ad agency software, is a comprehensive collection of digital tools and applications designed specifically to cater to the unique requirements and workflows of advertising agencies. These software solutions encompass a wide range of functionalities, including creative tools, project management platforms, client communication software, and analytics tools. By utilizing these tools, advertising agencies can streamline their operations, enhance collaboration, and effectively execute campaigns while efficiently managing client relationships.
One of the key aspects of ad agency software is its ability to provide creative tools that empower agencies to ideate, design, and develop compelling advertising materials. These tools often include graphic design software, video editing applications, and content creation platforms, enabling agencies to produce visually stunning and engaging content that resonates with their target audience.
In addition to creative capabilities, ad agency software also offers project management platforms that facilitate seamless coordination and organization of tasks within the agency. These platforms enable teams to collaborate efficiently, assign responsibilities, set deadlines, and track progress, ensuring that projects are delivered on time and within budget. By centralizing project-related information and streamlining workflows, agencies can optimize their productivity and ensure smooth project execution.
Client communication software is another integral component of ad agency software, as it enables agencies to effectively communicate and collaborate with their clients. These tools provide a centralized platform for agencies and clients to exchange feedback, share files, and discuss project details, fostering transparency and ensuring that client expectations are met. By facilitating clear and efficient communication, agencies can build strong and lasting relationships with their clients, ultimately leading to increased client satisfaction and loyalty.
Furthermore, analytics tools integrated into ad agency software allow agencies to measure the effectiveness and impact of their advertising campaigns. These tools provide valuable insights into key performance indicators, such as reach, engagement, and conversion rates, enabling agencies to make data-driven decisions and optimize their strategies for maximum results. By leveraging these analytics, agencies can continuously refine their campaigns, ensuring that they deliver the desired outcomes and drive tangible business growth for their clients.
In summary, ad agency software encompasses a comprehensive suite of digital tools and applications that cater to the specific needs and workflows of advertising agencies. By providing creative tools, project management platforms, client communication software, and analytics tools, this software empowers agencies to efficiently execute campaigns, manage client relationships, and drive successful advertising initiatives.
Allfred guides your agency's
financial process
Increase project visibility
for less overwork and overtime
Improve team collaboration, reduce errors by automating tasks with AI‑powered suggestions and lead your team to higher efficiency and engagement.
Integrated project & task management
Project communication & attachments
AI‑powered assistance reduces errors by up to 80%
Learn about Project management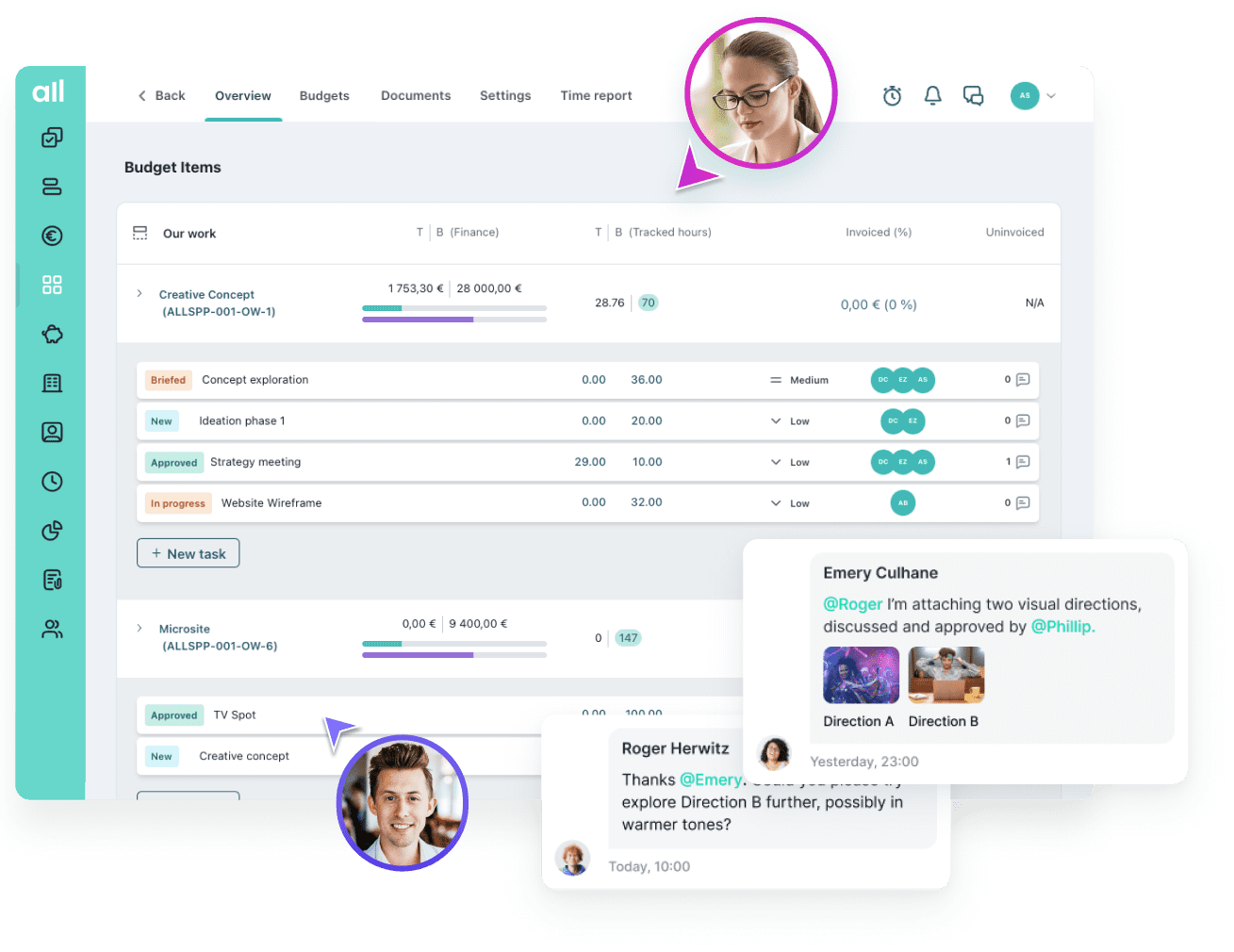 Gain a complete overview of all tasks, both assigned to you and those you've delegated
With a clear view of completed tasks and those still in the pipeline, maintaining order and tracking progress becomes effortless.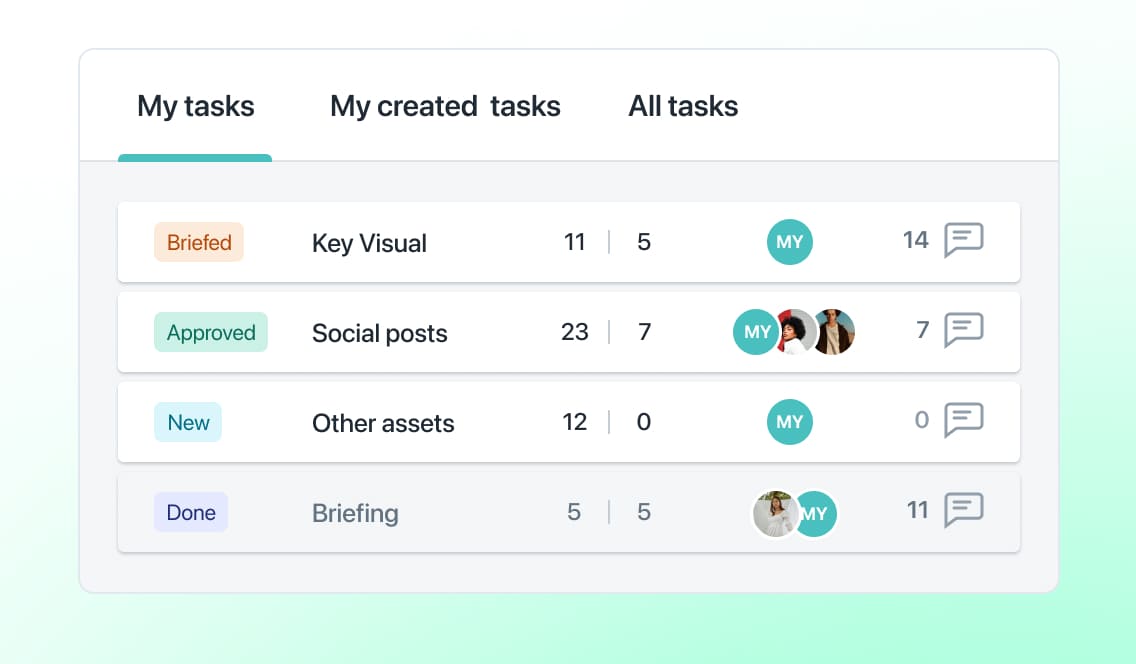 Integrated project and finance workflow
Advertising projects go beyond just your agency's tasks. Integrate all external collaborations and third-party expenses directly into your project workflow.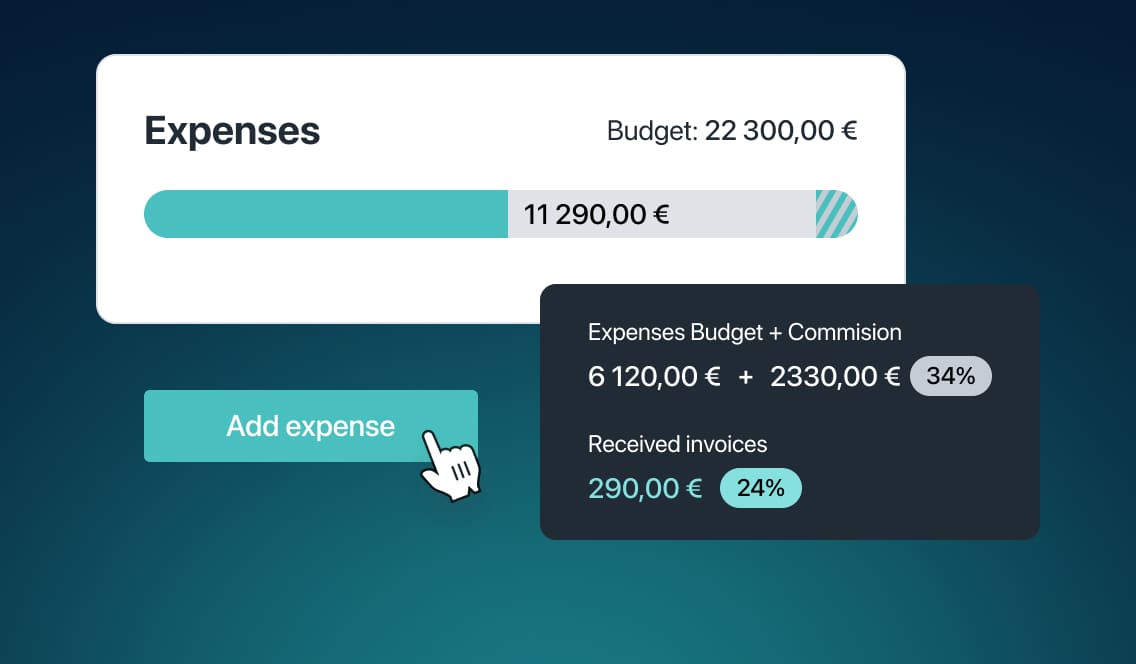 Is Allfred
the right fit

for your agency?

Try for free for a week. No strings attached. No prepayment needed.
Tailor made
For advertising, digital & PR agenciesfor advertising
Reliable
99.9% uptime
Secure
Corporate grade encryption & data securityCorporate grade encryption
On your deviceSupport
Dedicated support or 24/7 SLA24/7
HelpfulOnboarding
On site / remote onboardingAssistance